This was published 8 months ago
Cry freedom: Joe Biden's victory has brought me to tears
The thing I have found hardest to explain to people lucky enough not to live in the United States in 2020 is just how bad things were before they started to get better.
The closest I can come to describing it is that it was like being in a speeding car with a drunk driver. When the election was called, I understood the relief from the rest of the world – they were on the road, alongside the drunk driver, trying to avoid him merging into their lane – but I also wanted to tell them: "You weren't in the car."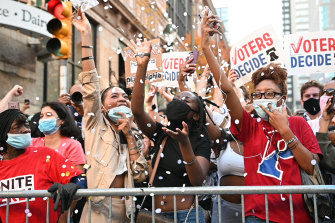 I use this analogy because life under Donald Trump's thumb felt fundamentally unsafe. This was true for minority groups, in particular, and for women. But a sense of dread was endemic to much of society. You never knew if you'd wake up to an all-caps declaration of war. Or when (not if) a neo-Nazi militia would get a boost from the highest office in the land. It all depended on how the president was feeling that day: whether he woke up in a good mood, or won his golf game.
When the pandemic hit, we hoped Trump would do his best to contain it. Instead, the president took on the role of chaos agent, promoting fringe voices who recommended letting the virus rip through the nation. Like Sweden, but dumber.
When Pennsylvania was called blue, millions didn't dance in the streets because they love Democrats, or because Joe Biden would be president. Biden seems like a very nice guy, but don't mistake his down-home blue-collar charm for anything approaching charisma.
"Any parents out there feel the same way you felt right after having a baby?" tweeted a friend. "Tons of joy. A lot of tears. Tremendous relief. Marvelling at what will be a bright future. And a LOT of work ahead." That sheer euphoria isn't because the Democrats, milquetoast to their core, won. It came instead from the knowledge that we were no longer entirely on our own. That the person in charge was going to at least attempt to do his job.
Biden's was a win for everyone who believes sexual assault and tax evasion are crimes; who cares about kids and would like them to inherit a vaguely inhabitable planet; who has qualms about powerful people mocking the disabled, insulting veterans and intimidating journalists; and who prefers to resolve political agreements at the ballot box, rather than with violence. I hope this result means my local shops can stop boarding themselves up with plywood every couple of weeks.
Did the Democrat win? Sure. Crucially, though, this was a victory for small-d democracy. It's not fashionable to affirm that the US sets a global tone, and is capable, even, of setting an example. Still: this was a nation that felt on the brink of civil war a few weeks ago, and now – thanks to the efforts of thousands of diligent local officials and millions of voters – it is not. That's good for everyone.
And for those in the speeding car, which has screeched to a halt just before getting onto the highway: the US is on track to lose 400,000 people to COVID-19 by the end of the year. Joe Biden has already announced he's creating a task force to tackle the problem. Kamala Harris will be the first black, and the first Asian, and the first woman vice-president in history. Another, slightly less significant first for 2020? At the mention of that task force, reader, I wept.
To read more from Good Weekend magazine, visit our page at The Sydney Morning Herald, The Age and Brisbane Times.
Have a Good Weekend all week
Amelia Lester is a regular columnist and writer with Good Weekend.