Outgoing Australian swimming coach Jacco Verhaeren believes Mack Horton had no choice but to carry out his controversial podium protest at last year's FINA World Championships and would not have been true to himself if he had stood alongside Sun Yang.
Verhaeren returned to his native Netherlands last week after helping to bring Australian swimming back from the brink in the wake of a disappointing and dramatic London Olympics campaign in 2012. Rohan Taylor has stepped into the role for the Tokyo Olympics and beyond.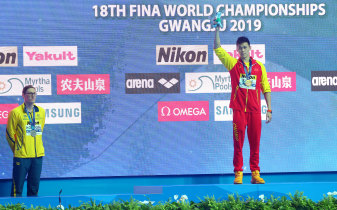 The Dutchman arrived in an organisation that lacked trust and cohesion but leaves behind a Dolphins squad bristling with talent, a pair of Olympic champions and a legacy of controversy from last year's world championships in South Korea.
Central to that was Horton's refusal to share the podium with China's Sun after finishing second to him in the 400m freestyle. The Victorian would later say the act was symbolic of the sport's refusal to take doping seriously and not a personal attack on his great rival, who he beat into silver in the same event at the Rio Olympics.
Sun was later banned for life for his role in a smashed blood vial that saw him escape a test at his home at the end of 2018. Many saw that as vindication for Horton but Verhaeren said the freestyle star needed no validation for his protest.
"I love his authenticity... him not standing on the podium, taking that stance for the sport... I can definitely relate to that," Verhaeren said. "He didn't have another option. People said 'maybe it's smarter not to do that'. He felt he needed to do that, his authenticity is incredible."
Verhaeren was quick to give credit to the athletes and their on-deck coaches for the rising tide of talent and will be watching intently should the Games take place next year, especially as some of Australia's biggest guns run into their superstar American rivals.
One of those is the clash between defending 100m freestyle champion Kyle Chalmers and reigning world champion Caeleb Dressel. Verhaeren famously coached Sydney 2000 star Pieter van Hoogenband and likened their rivalry to that between the Dutch flyer and Ian Thorpe or Alex Popov.
"Kyle is a true champion... he's already shown that. But where people surprised he won at his first Olympics, I have learned in 30 years of swimming that there's no such thing as a coincidence. He has that true mindset of a champion," Verhaeren said.
"He's shown that many times since. He's still the man to beat. They are both swimming in the same league. It makes me think about the battles with Hoogie and Popov or Hoogie and Thorpie. There is almost always two of them and that is what makes these races great."
Verhaeren had similar praise for Australia's 400m freestyle world champion Ariarne Titmus, who stunned the swimming world when she overhauled American Katie Ledecky in South Korea. He believes they are simply on another level in the event.
"She has this important skill that nothing worries her... she can manage pressure. That's such an incredible skill. We're talking like there are only two people in their races – there isn't – but Arnie and Katie seem like they are in a league of their own."
Verhaeren has yet to decide on his next move but has already had significant interest from a number of major swimming nations. But his immediate focus is to join his family in the Netherlands before deciding on his next job.