This was published 8 months ago
Real Madrid forward Diaz tests positive as Marlins MLB season on hold
Madrid: Real Madrid forward Mariano Diaz has tested positive for COVID-19, the Spanish champions said on Tuesday, casting doubt on his participation in their Champions League tie at Manchester City next week.
Real said in a statement that tests were conducted on the squad on Monday and that though Diaz was in "perfect health", he would be self-isolating at home.
Real, who trail Manchester City 2-1 from the first leg of their last-16 tie before the pandemic suspended the competition in March, are set to play the Premier League side in the second leg on August 8 at the Etihad. Diaz has made seven appearances this season.
The Champions League knockout stages from the quarter-finals onwards will be played as single legs in Lisbon.
Spain has seen a surge in COVID-19 positives with thousands of new cases reported on a daily basis in the past week, taking its tally up to over 296,000 cases.
Britain has imposed a 14-day quarantine for travellers from Spain but British media reported that elite sports teams travelling into the country will be exempt.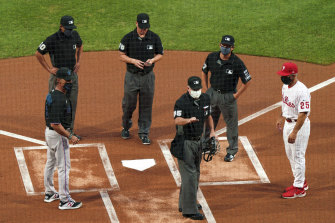 Over the weekend, Spanish side Fuenlabrada confirmed they had 28 positive cases at the club, including a few cases in Madrid where the team is based, costing the second division club a shot at promotion to La Liga.
Meanwhile, across the Atlantic Major League Baseball has postponed all Miami Marlins games through Sunday after four additional players tested positive for COVID-19, bringing the total number of cases within the club to 17 over the last five days according to reports.
The Marlins, who opened their season last Friday with a three-game series in Philadelphia, previously had 11 players and two coaches test positive for the virus, which caused MLB on Monday to postpone two of its scheduled games.
Tuesday's announcement means the Marlins will have to make up five games during the truncated, 60-game season.
"Given the current circumstances, MLB believes that it is most prudent to allow the Marlins time to focus on providing care for their players and planning their baseball operations for a resumption early next week," MLB said in a statement.
The league added that the remainder of the Phillies-Yankees series, scheduled to be played on Tuesday in Philadelphia and Wednesday and Thursday in New York, would also be postponed "out of an abundance of caution."
The Athletic website quoted a source saying the Marlins were still in Philadelphia and that one of the previous team members to test positive had a subsequent test come back negative.
MLB did not immediately respond when asked to confirm the report.
Anthony Fauci, the leading US expert on infectious diseases, told Good Morning America earlier on Tuesday that it was too soon to halt all MLB action.
"You just have to watch this, this could put it in danger. I don't believe they need to stop, but we just need to follow this and see what happens with other teams on a day by day basis," said Fauci, who threw out the ceremonial first pitch in MLB's season-opener last Thursday in Washington.