A-League bosses are prepared to consider pushing the season back beyond their target finish date in late August if it means the Victorian A-League clubs can get an exemption and cross the border into NSW to be part of a Sydney hub to ensure the campaign can be completed.
The A-League has published a schedule of games which would see the competition restart next Thursday (July 16) with a game between Melbourne Victory and Western United, and conclude on August 23 with the grand final.
But if part of the exemption deal for Victorian clubs travelling to NSW is that they have to go through a 14-day quarantine period (albeit one in which they would be allowed to train) then the league will be happy to juggle the running order of the fixtures and revamp the program if necessary.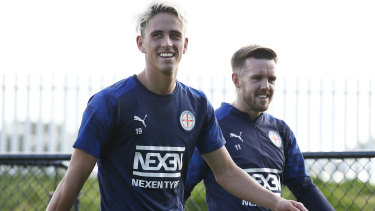 A-League chief Greg O'Rourke told The Age and Sydney Morning Herald on Wednesday that if it came to it, the Victorian clubs could play their first fixtures against each other in Melbourne which would buy time for them to do quarantine in NSW if they had to.
''We can move some games around so we haven't ruled that out, that's for sure," O'Rourke said.
The players from Melbourne Victory, Melbourne City and Western United all returned to training at their home bases on Wednesday after a second night of frustration and anger over an abortive attempt to leave the state.
A planned Tuesday night dash to Canberra was thwarted once clubs were told players would have to undergo 14 days isolation in the ACT where they would have to remain indoors and thus be unable to train and get match fit.
All three clubs returned home once more having had to do the same on Monday night when bad weather forced them to cancel a flight to the nation's capital.
FFA officials spent Wednesday negotiating with the NSW government to gain exemptions for Victory, United and Melbourne City to travel north while the coaches, staff and players were once again on standby to travel quickly if they got word that there were no impediments to them heading into NSW.
Players from City and Western United were swab-tested for coronavirus with the results expected on Thursday to ensure they could move swiftly to travel if the exemptions were granted. Victory players had tests earlier in the week.
The players union, the PFA, has been highly critical of the A-League for the situation the Victorian players find themselves in and, it is understood, they have presented A-League boss O'Rourke with a list of demands over issues such as travel and logistics they want to be clarified before they next head out of the state.
The participation of Victorian clubs in the final stages of the competition is crucial if it is to continue: City is challenging for a top two finish, and it has three games left to play while Western United is pushing for a finals berth and it has six matches left. Victory is the only one whose prospects of making the play offs look dim, but it too has five games left to complete.
Asked whether the league would have to be cancelled if the Victorian clubs could not get into NSW, O'Rourke was adamant that was not something that was under consideration.
Senior figures within the game also floated the possibility of matches even being played in other states if they were prepared to allow Victorian clubs exemptions - as they have for teams from other codes like AFL.
Michael Lynch is The Age's chief soccer reporter and also reports on motor sport and horseracing