'Plenty of upside': Waterhouse and Bott to take over Alligator Blood
Gai Waterhouse and Adrian Bott say they are "honoured" to take over the training of one of Australia's best horses, Alligator Blood, and insist the cult hero's best days are not behind him.
And the horse's controversial owner, Allan Endresz, says he has no intentions of telling the champion trainers how to do their job.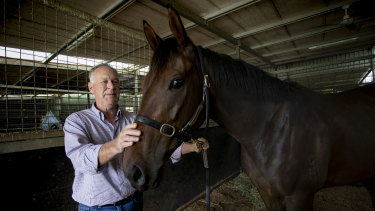 Tulloch Lodge would be the new home for the Australian Guineas winner, Waterhouse announced on Twitter on Wednesday morning, three days after news broke that David Vandyke no longer wanted to train the horse following a dispute with managing owner Allan Endresz.
Endresz flagged he would send the horse to either a Sydney or Melbourne stable for his next campaign after he recovered from a back injury; he is due to undergo surgery on Monday. The horse has been diagnosed with "kissing spine", a degenerative condition, but specialists are optimistic of a full recovery.
It is likely to rule Alligator Blood out of the Sydney autumn carnival - and his participation in the Queensland winter extravaganza will also be in doubt - but it hasn't stopped Bott claiming the four-year-old has more feature race wins on the horizon.
"We're very honoured to a have a horse of his calibre coming to the stable given what he's accomplished in his career already," Bott said.
"The team have obviously done an amazing job throughout his career so far and I'm sure there's still plenty of upside there and we're looking to enjoy that with Allan and his family and the following Alligator Blood has."
Endresz said the appointment of Waterhouse and Bott as Vandyke's replacement happened quicker than anticipated, but the Sydney trainers ticked every box of the ownership group.
"I think putting up with me in terms of the media side is one big box," Endresz laughed.
"Contrary to public opinion, I never had any involvement whatsoever on the training side. I never interfere, same on the legal side. That's just a corporate rule really.
"To allow Gai and Adrian to do what they do best, that was a big one.
"The big box was the tenacity and the resilience. I had horses with Gai years ago and the tenacity that she has, to get into things and not take hits from anybody and get on with your objectives, she's probably got the best 'alligator blood' of all."
Alligator Blood struggled during a Sydney preparation this spring, which saw him finish well down the track in the $7.5 million Golden Eagle in wet conditions, but Endresz believes the horse has carried back issues since his unplaced All-Star Mile run.
It came after a busy spring and summer campaign last season, including an Australian Guineas win and victory in a drama-charged Magic Millions Guineas, for which he later returned a positive swab.
Asked about a possible timeframe for Alligator Blood to return to the track, Bott said: "I think it's fair to say the autumn is going to be ruled out and it might be tight with Queensland.
"Part of the reason to be given the opportunity to train the horse is the desire to campaign the horse in Sydney and Melbourne, for which we've got set-ups in both places. I'm sure that played a big part in being given an opportunity."
Endresz's other horses will be sent to young horseman Billy Healey and Stradbroke-winning trainer Natalie McCall.
Adam Pengilly is a Sports reporter for The Sydney Morning Herald.
Damien Ractliffe is the Chief Racing Reporter for The Age.