This was published 8 months ago
Waller's smart stayers set for more summer showdowns
Chris Waller's stayers Accountability and Relucent are going to see a lot of each other in the next couple of months and, if Saturday at Kembla Grange is any indication, it will come down to luck in running to separate them.
Relucent got the better of his stablemate on the track but the result was overturned in the stewards room as Accountability won the race on protest after being cut out of a run at 200m mark.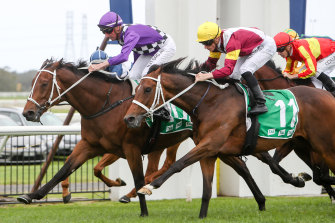 The fact that Accountability was able to pick himself back up and get to within a half-neck of the winner convinced stewards that the interference at the 200m mark cost him the race.
The result could be different next time the pair meet because Accountability will rise in the benchmark.
It vindicates Waller's decision to set the progressive pair for the raft of cup races in December and over festive period.
"We missed the spring with both of them with this time of year in mind. They are both going to get better over a bit more ground," Waller's assistant trainer, Charlie Duckworth, said.
"They are Summer Cup horses that both have their share of ability, and we will be targeting similar races with them.
"Accountability has been a hard horse to get a guide on, because he does nothing in trackwork but he shows it on the track, and he is just going to get better."
The result gave the son of super stallion Dubawi back-to-back wins, and he again showed an enormous turn of foot, as did Relucent when he launched down the centre.
The crucial part of the race came approaching the 200m when Significance hung in, giving a run to the inside of Relucent to Accountability that closed when Relucent rolled in.
"I was pitching for the run," Accountability's jockey, James McDonald, said. "I was full of running as I went for the run, but the run closed soon after.
"I had to come back and switch off heels. He then finished off really powerfully. I felt I was entitled to the run when the eventual winner shifted in."
Nash Rawiller felt he was within his rights on Relucent to shut the door on Accountability when the run came to his inside.
"The run was there for one stride and he wasn't able to establish it," Rawiller said. "I think I was within my rights to shut the gate, so to speak. He hasn't established his run."
It was a good afternoon for the Waller stable. Bigboyroy broke a track record in the opener and Hulk broke a class record.
"We've taken about two years to work him out and realise he is actually just a real sharp sprinter," Duckworth said of Hulk.
"You've got to sit back, let the race unfold and try to chime in over the last 400m."
Chris Roots is a racing writer for The Sydney Morning Herald.