Ryan's mechanical preparation for biggest ride of his life
Star apprentice Brock Ryan has been left locked at home with only his imagination to prepare for what could be his greatest triumph leading in to Saturday's Golden Rose at Rosehill.
The preparation for the biggest ride of Ryan's life, on his favourite filly Jamaea, has been restricted to a mechanical horse rather than one of the traditional variety as the 27-year-old followed Racing NSW COVID protocols.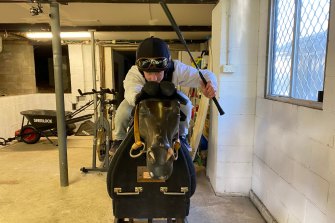 A regular at Kembla Grange trackwork, Ryan was banned from the track when Racing NSW tightened its rules for jockeys on Monday after a couple of cases emerged in the riding ranks.
"It doesn't help the nerves, that's for sure," Ryan said after a session on his mechanical partner.
"I thought I would get another feel of her on Tuesday [in her final gallop], instead I got my friend here and I'm trying to stay race fit, but you just have to accept that is the way it is.
"[Trainer] Luke [Price] said she's perfect [after riding her in the gallop], so I can't wait for Saturday to see her again."
Ryan was serving a week's suspension, so unlike his rivals on Saturday could get his horse fix on raceday during the week.
"You have just got to do what you have got to do in this situation. I would have liked to keep riding in the mornings to stay sharp and keep things ticking over, but I can't," Ryan said.
"I'll have a couple of rides before her on Saturday, and that's the way it is. I'm sure it will be all right."
When the news came through about the new rules Ryan's boss and Jamaea trainer Luke Price was quick to suggest running through the race at home.
"He knows what she can do and knows how he is going to ride her, so I just said get on the mechanical horse and practise every scenario," Price said. "I just said you need to stay active, get on it as often as you can.
"I said to him I know when you're in this situation you can't stop thinking about it, so I told him to embrace it and make this a positive for him. He knows how good she is.
"She has drawn the perfect barrier on Saturday, so she is going to get in somewhere midfield, and hopefully she can follow Anamoe into the race and come off his back at 100m and go bang.
"We all know her style and I know Brock will get it right."
It's another layer in the story of the fairytale filly, who has won the Percy Sykes Stakes with Tommy Berry in the saddle and was a last-start winner of the Tea Rose Stakes, when Ryan brought out her scintillating late charge.
Jamaea is every bit the battling underdog.
She is not big and doesn't carry the big pedigree or famous silks, but Jamaea has a big motor, which could carry her to an historic victory.
"When Luke told me I was riding her in the Rose, I can't describe it because I think she can win it. It was the best thing."

Brock Ryan
The only filly to win the Golden Rose was Golden Slipper winner Forensics in 2008, when the race was delayed until the autumn because of equine influenza. No filly has been able to beat the colts when the race has been run in the spring.
No apprentice has been able to lift the Golden Rose trophy, so Ryan will also look for his own piece of history.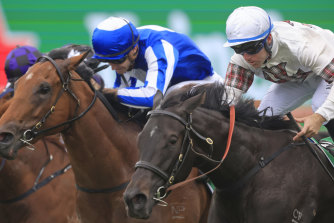 It is a place Ryan was convinced Jamaea would get to after jumping her out as a two-year-old at Nowra. He was struggling to gain a foothold in Sydney at the time.
"I rode her in a jumpout and I said 'there's your Golden Slipper horse' to Luke," Ryan said. "He didn't believe me at the time but a week later he said 'you're right'.
"I always knew she was going to get a group 1, the first time I rode I knew, I just didn't think I would be riding her.
"I was just happy to be getting the odd rides in town back then."
It might not be perfect preparation, but there is a sense of destiny about Ryan and Jamaea, who is a $15 hope in Golden Rose betting dominated by Godolphin's star Anamoe as a $2 favourite.
Jamaea has gone on become a two-time group 2 winner, while Ryan has grown in confidence with opportunity, winning group races of his own in the saddle this spring but is still amazed to have this chance.
"I was lucky to get to ride her because Tommy [Berry] was suspended in the Tea Rose and I thought they would go with someone else for the group 1," Ryan said.
"When Luke told me I was riding her in the Rose, I can't describe it because I think she can win it. It was the best thing.
"She is definitely the best chance I have had in a group 1, and I have been with her since the start."
Sports news, results and expert commentary. Sign up for our Sport newsletter.