Rapid Racing returns, twilight in January the Flemington flavour
Twilight meetings in January will be the theme of Flemington's summer race series, including the second running of the Rapid Racing meeting, after the race club unveiled its schedule leading into the autumn carnival.
The Rapid Racing concept, which pitted two teams of metropolitan and country jockeys against each other in straight races only in its inaugural running last summer, with just half-hour gaps between races, will return on Friday, January 29.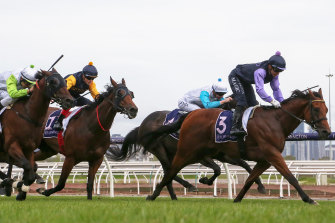 The seven-race twilight card will kick off at 4.30pm and will be the fourth of four twilight meetings across the month at Flemington. Flemington's New Year's Day card, on a Friday, will also be held in the evening, as will Saturday meetings on January 9 and 16.
Last year the club trialled its twilight meetings across December to March, but the VRC's executive general manager of racing Leigh Jordon said the club had taken feedback on board and tweaked its schedule for this summer.
"The main thing we learnt from the twilight experiment last year … the feedback we got was we were trying to trial it but it was inconsistent," Jordon said.
"Our customers preferred a set period so they know all the meetings are twilight, so Flemington in January will be twilights. It gives us more consistency for our consumers and patrons.
"We also took feedback from our participants who said 8pm was too late, so we've taken that on board and except for the Rapid Racing day on the Friday, all the rest won't go later than 7pm.
"Obviously we're still waiting on a return to crowds but we thought we'd go ahead with it anyway because we think there could be a wagering uplift pushing back [race times] in January, and hopefully by then we've got more people back on course and we can give them a different offering."
The silks for the Rapid Racing concept will also change. Last year the two teams each wore a set of silks with different coloured sleeves, but feedback from viewers at home suggested it was too difficult to differentiate the runners.
"People said it was difficult to pick up which horse was which so we've responded to that," Jordan said.
"We're talking with our race callers [about it] – we'll probably have the owners' colours but different coloured breeches to try and distinguish the two teams, but it'll be a similar format [to last year]."
Racing returns to headquarters for the first time since Stakes day on December 12, followed by another meeting on December 19.
The January 29 Rapid Racing event will be followed at the back end of summer by the Black Caviar Lightning Stakes meeting on February 13 and Australian Guineas day on February 27, leading into Super Saturday in March. Those blue-chip meetings will be day events.
The club, however, has again overlooked the option of a New Year's Eve race meeting in favour of its traditional New Year's Day timeslot. The option for the club to host families at the races leading into fireworks on the Maribyrnong River has been discussed at club level but overlooked for this summer.
Meanwhile, Racing Victoria has released its calendar for the remainder of the season up until the end of July 30, 2021.
Of note, RV's trial of a race-free week in the final five days of the season will be implemented this season and again in 2022, giving participants greater opportunity to break.
Christmas Eve will also be race-free this year and next.
Damien Ractliffe is the Chief Racing Reporter for The Age.