'Now we have our home': Widdup secures stable future
For the past couple of years, Brad Widdup has been making a name for himself in the training ranks with the nagging doubt hanging over him as to whether Hawkesbury would remain the home of his stables.
That doubt is gone after his business secured this week the stables on Hawkesbury's back straight that he has used since taking out his licence a couple of years ago. With that done, now he wants his biggest victory.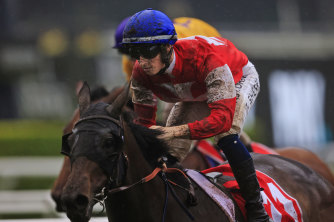 Widdup will look to clean up another area of concern with Icebath by winning the Golden Pendant at Rosehill on Saturday.
Icebath has been a big part of the Widdup story and, but for a head here and there, she have won a Golden Eagle and Doncaster. There has always been the feeling her day would come.
"Icebath came along at the right time for us and her, Adelong and Vulpine have been really good for the stable and been part of building it," Widdup said. "She has done a great job. You don't get too many horses that win $2 million, but I still think there is unfinished business there, and we would like to get that trophy."
It would complete a good week for Widdup in which a lot of pressure was released when he signed the contract for the stables. He is now in control of his own destiny.
"We have had that uncertainty about whether we would be able to stay in these stables. The last couple of years, we have worked really hard to build momentum, but there was always worry there," Widdup said.
"We have a lot of good staff, and it was always in the back of my mind what would happen to the staff if I had to leave, but now we have our home.
"Brad Widdup Racing owning the stables just secures the future . It commits us to Hawkesbury, which is important to me."
There would be a synchronicity if Icebath can return from Rosehill with a group 2 victory on Saturday. The quality mare was the last horse into the Golden Eagle and Doncaster but showed she was worth a spot with brave efforts where she had looked the winner in both races only to fall short. Still, she has netted more than $2 million in stakes.
She deserves to win a big one, and her seconds give her an advantage under the set weights and penalties conditions, and she will carry only 54kg on Saturday.
"It is never easy, and at this level you never get anything given to you," Widdup said. "She is on path and I'm really happy with her.
"The plan has always been to go to the Epsom after the Golden Pendant, like she did in the Golden Eagle and Doncaster."
Icebath is ready to reach her peak after finishing third in the Show County Quality and only being beaten a couple of lengths in the Theo Marks Stakes before returning to mares company.
"She is definitely still improving, and I think the 1400m will be perfect for her on Saturday," Widdup said. "She is just about there in terms of fitness, and we know from experience it is at this point of her preparation when she runs her best races."
Widdup will also look for his first Midway success with Calgary Queen, which gets James McDonald back in the saddle after he won on her first up.
"These races are great for trainers like me, and the goal is not to be eligible for them eventually," Widdup said. "It is a good stepping stone for Calgary Queen. She's going super and is going to be a really good mare in the next couple of years.
"It would be nice if we could finish a good week with a win or two on Saturday, and I think we are taking two good chances to the races."