'Haven't felt like this since Black Caviar': Ole Kirk follows family tradition in Golden Rose
Neil Werrett's love affair with Black Caviar's family led him to Ole Kirk, and he could be the colt to carry the bloodlines on for generations to come after he won Saturday's exhilarating Golden Rose at Rosehill.
The Written Tycoon colt, out of Naturale, an unraced sister to Black Caviar, overcame traffic problems at the 300-metre mark and was simply too tough in a stirring duel with stablemate North Pacific to score by a head with rivals left in their wake headed by King's Legacy 1-¾ lengths away.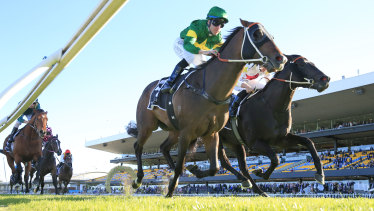 Pre-race favourite Rothfire, which led and compounded to run fourth, was unsaddled on the track by jockey Jimmy Byrne and later found to be three in five lame in off-fore shoulder and leg which leaves his run in The Everest in doubt.
Meanwhile, Werrett was shaking and had tears in his eyes as he came down from the stands after Ole Kirk's victory in the group 1, and knows there is more to come with the Caulfield Guineas next on the list.
"The breeding and the whole thing that has gone into this race. I can't believe we have won it," Werrett said. "I'm totally spent I haven't felt like this since Black Caviar. It means so much.
"He is probably worth $50 million as a stallion now and there is more to come."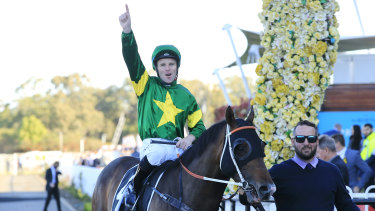 It wasn't like a Black Caviar procession, which Werrett saw 25 times. This was a tough, classy display from Ole Kirk, which exhibited everything a stallion needs a lightning turn of foot then sustained speed and a simple refusal to be beaten.
Tommy Berry had a wall of horses in front of him at the 300m mark and switched Ole Kirk across heels and began his winning charge with North Pacific joining him on the outside as he sustained a long run from near last in a frantic race.
"I didn't know it was James [McDonald on North Pacific] outside me but I thought I was beaten 80 metres out. But Ole just pinned his ears back, he didn't want to lie down," Berry said.
"He's had a great attitude all preparation, he's definitely a lot more mature than he was last season.
"The mile [in the Caulfield Guineas] is going to suit him even better.
"The trip to Melbourne won't hurt him as he's done that plenty of times before. I won't be able to go down and ride him for that but it was nice to get one before he took off to run in the big smoke."
Co-trainer Michael Hawkes attempted to watch his two horses, which were the top two lots in the 2019 Melbourne Premier Sale, and it was a proud moment when they squared off in the last 100m.
"It is always hard. You always try and watch both horses. I could see North Pacific coming down the outside. To his credit he was very gallant in defeat," Hawkes said.
"Tommy just got held up. He had to wait for the right run. Probably that proved the difference. Just by being held up, He was able to sprint that little bit better.
"They've streeted the rest. We've always had two really good colts. We've tried to separate them going forward. Obviously, this is the Grand Final. To run one-two is a fantastic effort. It shows we found the right horses."
Rothfire went from travelling like the winner to a beaten horse in the matter of strides at the top of the straight according to Byrne.
"I had to work to get there but at the 400 metres I didn't think they were going to catch me but by the 300 metres it was over," Byrne told stewards."When he didn't let down straightaway I thought something wasn't right."
Byrne unsaddled Rothfire on the track and he walked back very poppy in his action.
"I didn't feel it straight away but as soon as he slowed down I knew something was wrong and I didn't want to take any risks," he said.
Racing writer for The Sydney Morning Herald