As the NRL and its clubs consider the possibility of introducing a formal loans system between teams, one of the league's two test cases has endorsed the process.
Melbourne Storm player Paul Momirovski is on loan this season from Wests Tigers as part of a swap made during pre-season to allow Storm hooker Harry Grant to come out from under the shadow of NRL great Cameron Smith.
While Grant has starred as the first-choice hooker at the Tigers, Momirovski has endured a more difficult campaign, first forcing his way into the Storm's side then suffering a tendon injury in his ring finger that saw him miss eight weeks of action.
He will return to the field on Sunday for the final-round clash with St George-Illawarra but he is no certainty to play during the finals, with Justin Olam and Brenko Lee performing well in the centre roles.
But that aside, the 24-year-old had no hesitation in expressing his support for setting up a formal loan process after delays and salary cap issues almost ruined his swap.
"The thing with the loan is the players get the choice because we have contracts, you are not just a pawn in a chess game getting moved around," Momirovski said on Thursday.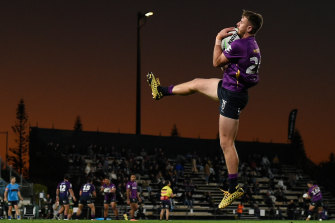 "You get the choice and if you make that choice and you think it's best for you then it's a great system – you just have to look at what Harry has done this year.
"He has had the opportunity to play games, I had the opportunity to play earlier in the year. We are both in situations that highly benefited us this year.
"I definitely would recommend it as long as players aren't being pressured by the club and it's good for you. There is no reason why this can't be a part of the NRL going forward."
Momirovski scored three tries in his five matches and is so far undefeated in Storm colours.
If not for his injury he could have become a fixture in the side but he hasn't dropped his head, working his way back to fitness quickly after initially being expected to miss up to 12 weeks.
"You don't want to be missing that much time for a finger but weighing up all the medical information, it was the best thing to go and get my finger done," he said.
"It allowed me to progress my rehab quickly because I could run and keep other aspects of my body fit.
"It's the tendon that allows you to bend your finger so if I didn't get it repaired it becomes unrepairable after three or four weeks. It was either act straight away or have a finger that doesn't bend."
Momirovski is expected to return to Wests next season but he hopes his repaired finger could leave Melbourne with a premiership ring, should the club win the NRL title.
"It was my ring finger and hopefully I will be pushing something onto it in the next month or so," Momirovski said with a smile.
The Storm play St George-Illawarra Dragons at Jubilee Stadium, Sydney on Sunday at 4.05pm.