The cycling world has been left shocked by the death of Olivia Podmore, who represented New Zealand at the Rio Olympics in 2016.
The 24-year-old's death, which has been confirmed by her family, followed a post on one of her social media accounts in which she outlined the pressures of high-level sport.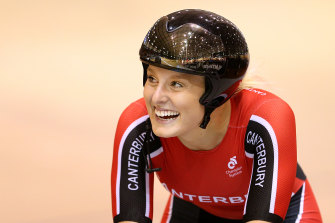 Mitchell Podmore, Olivia's brother, posted on Facebook on Monday night: "Rest in peace to my gorgeous sister and loved daughter of Phil Podmore. You will be in our hearts forever."
Former New Zealand cycling coach Jon Andrews, the father of Ellesse Andrews who won a silver medal at the Tokyo Olympics on Friday and is a friend of Podmore's, said he had heard the news but said it wasn't appropriate to comment at this time.
Podmore's most recent coach Hamish Ferguson was too distraught to comment, saying it was "really devastating".
High Performance Sport New Zealand said it was "deeply saddened" at Podmore's death.
"Our thoughts are with her family during this very difficult time," HPSNZ posted on its social media channels.
"We are working directly with Cycling New Zealand to support their community of athletes, coaches and staff. We are also prioritising support for our HPSNZ people who have been affected by this sudden loss.
"We are very conscious that many of the current New Zealand Olympic athletes and other team members, who knew Olivia, are currently returning to MIQ [managed isolation and quarantine]. A significant amount of work has been done in advance to ensure the team have the support they need for their physical and mental wellbeing in MIQ, and this work will be ongoing for the duration of their stay."
In her social media post on Monday afternoon, Podmore wrote of the highs and lows of competitive sport.
"Sport is an amazing outlet for so many people, it's a struggle, it's a fight but it's so joyous.
"The feeling when you win is unlike any other, but the feeling when you lose, when you don't get selected even when you qualify, when you're injured, when you don't meet society's expectations such as owning a house, marriage, kids all because you're trying to give everything to your sport is also unlike any other."
Podmore won silver in the team sprint and bronze in the time trial at the junior world champs in Astana in 2015, and went on to compete at the 2016 Olympic Games in Rio de Janeiro. There, she competed in sprint, team sprint and keirin. She was involved in a heavy crash in the latter event.
Despite her injuries, Podmore got back up and competed in the following race. She also competed at the 2018 Gold Coast Commonwealth Games in sprint, team sprint and keirin events.
If you or anyone you know needs support call Lifeline on 131 114.