'I'm here for both of us': Sakakibara dedicates BMX semi spot to brother
Just before Saya Sakakibara rode out for Thursday's BMX racing quarter-final, she made a phone call.
The 21-year-old Australian wanted to talk to her big brother Kai, who turned 25 on Thursday, before going onto the world stage.
The call wasn't just to wish him a happy birthday, it was also to bring him trackside with her, where he was supposed to be.
After the chat, Sakakibara went out in 31-degree heat and racked up 11 points across three runs, just enough to qualify for Friday's semi-finals.
Her success came after a horror 18 months for the family.
Competing in a World Cup race in Bathurst at the start of 2020, Kai suffered severe injuries in a crash. It left him in a coma for two months with doctors unsure if he would survive.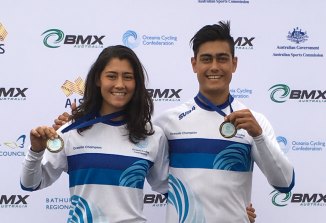 After eight months in the brain injury rehabilitation unit at Liverpool Hospital, Kai learnt how to talk and walk again. Saya's Olympics journey is now not only hers, but her brother's.
"I'm here for the both of us," she said after qualifying for the semi.
"I'm living the Olympic dream at the moment and he's on that journey with me all the way. With all the pressures that comes with the Olympics, I really wanted to show my best performance for him for his birthday as well. I think I was able to do that."
Sakakibara started her quarter-final shakily, bobbling off the course in her first run of three to take sixth place.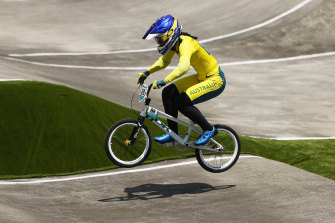 She claimed fourth in her second run before coming first in her third and final race.
The top four in each heat qualify for the semis. Sakakibara scraped into fourth with her score of 11. After the run, the world champion from Helensburgh in NSW acknowledged her "rocky start".
"There's so many people back home supporting me and obviously want me to do well. Having that number six [in the first run] on the board is definitely not good for them. But I'm really glad that I was able to turn it around and not give Kai a heart attack," she said.
"I was able to turn around a bad performance in the first round and ended up with a win at the end."
At their grandmother's home in Tokyo, Kai said he was stressed out after her first run.
"I am really a lot better now," he said immediately after she qualified. "I didn't feel like this half an hour ago! It's just so close."
Sakakibara will be joined in the women's semis by fellow Australian Lauren Reynolds, who finished third in the same heat group with a score of nine.
Australia's only male in the quarter-finals, Anthony Dean, was eliminated after finishing fifth, fifth and sixth across his three runs to claim a total of 16 points. He finished in last place in his heat group.
Never miss a medal or great sporting moment with our Olympic update emailed daily. Sign up for our Sport newsletter here.