This was published 8 months ago
Curl runnings: The two Australian athletes chasing Winter Olympic history
In the Canadian province of Saskatchewan, on a perfectly manicured, laser-levelled sheet of ice 'pebbled' with frozen water droplets to help the rocks to slide, spin and swerve, a pair of Australian Olympic aspirants have been busy perfecting their craft ahead of a shot at history.
Tahli Gill and Dean Hewitt don't have a great deal of company when it comes to curling in their home nation. They don't even have a rink on which to train in Australia, instead making do with ice hockey venues that have been sliced up with skates before they get a precious few hours of access.
So they take their mixed doubles show on the road for six months of the year, with the end goal always the Winter Olympic Games, the next of which will be held in Beijing in February. If they made the cut, they would sweep boldly where no national curlers have swept before; since becoming a full medal sport in 1998, Australia has yet to qualify an athlete.
Gill and Hewitt, though, are edging ever closer. In December, they will head to The Netherlands to compete with 14 other nations for a place in the Olympic field. Eight countries have already qualified, with two still slots up for grabs.
"It's a lot to think about," Gill said when asked what it would mean to be the first Australian Winter Olympic curlers. "We've both had our sights on the Olympics from a very young age.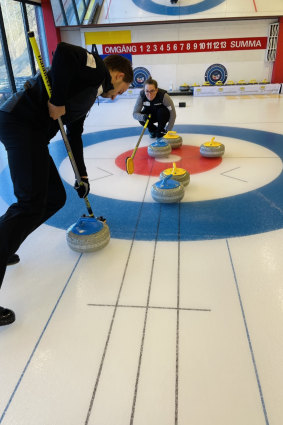 "It's been so inspirational to see so many athletes represent Australia in both the Winter and Summer Games so to potentially qualify for a sport we love, it's just chasing down a dream. Hopefully it's something we can get to live out."
The task is hardly out of their reach. In 2019, the duo finished fourth in the World Championships in Norway: the best finish of any Australian in such a major event. And they have been competing against quality Canadian opposition to make sure they are on top of their game when the moment arrives.
Yet it's their back story that makes their future prospects all the more interesting, while the average Australian's knowledge of curling, a kind of lawn bowls on ice that involves 20kg granite stones and manic sweeping with a specially designed broom, would be near the negatives.
"There are so many different aspects to the sport. It's not just about speed or power. Some shots are finesse and precision, others are just blasting all these rocks out," Hewitt said.
"Then you put the sweeping in and people go 'what the hell are they doing?' – all the time we are learning about the physics around it, various strategies, the mental side of the game, something is always going on. It's chess on ice."
Both Gill and Hewitt come from curling families, while Hewitt's father, Steve, was part of an Australian team that competed at the Albertville Games in 1992, when it was a demonstration sport. Now he aims to go one better with medals on the line.
The equipment needed for curling is as idiosyncratic as the sport itself, which has its roots in 16th century Scotland. The rocks, or stones, are made of granite that can only be quarried in two locations, one in Scotland and one in Wales, and are supplied by tournaments, not the curlers themselves.
They only get around 10 minutes with their set of rocks before each event, which gives them limited time to establish the feel and behaviour of each one before competition begins. That's an art in itself.
"Before big events, we would have an official practice and get to know the rocks on that sheet [of ice]. Teams will make a note of what the rocks are doing and the sheet is doing. But you only get about 10 minutes on a sheet to learn the rocks. You have to be efficient," Gill said.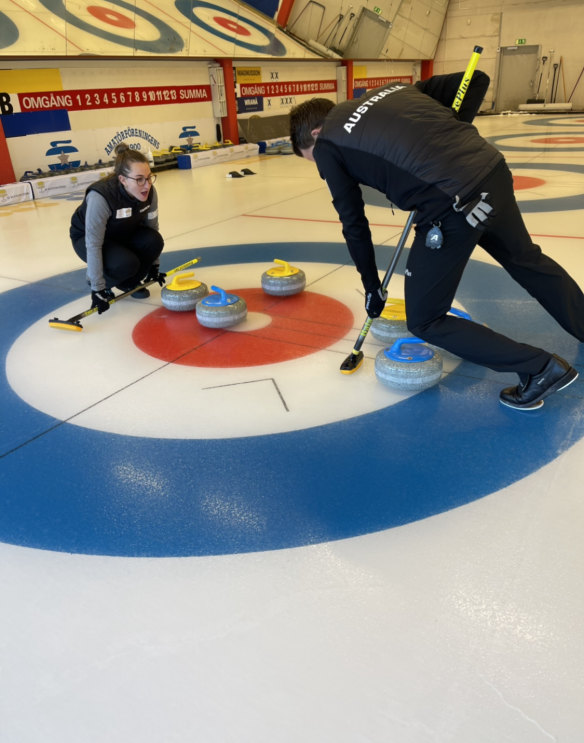 "Rocks react differently because of their undersurface. Some go straighter, some are fast, some are slow. The nuances between the rocks is something you have to work with before you compete."
Then there is the broom, now made of carbon fibre and tipped with an abrasive fabric on the head instead of bristles. Curlers will slide alongside their rock and sweep furiously to either speed up or bend the trajectory, depending on the desired outcome.
"Sweeping takes a massive physical toll. It's like doing a 20-second sprint with your arms over and over. In doubles, I'll sweep about 40 rocks in a game and a few more in practice," Hewitt said.
"I might sweep 100 rocks in a day. These brooms are getting better and better, they are fully carbon fibre now, mine weights about 290g. It's basically a feather. But it's about putting all of your body weight onto the broom head while moving as quickly as you can."
The Olympics remains the dream for the duo but the byproduct is equally as important. Should they qualify, perhaps a curling rink may even spring up in Australia. That way, Hewitt said, they could leave the hockey ice behind, a surface he says is akin to trying to train for Test cricket on a beach.