India are on the board in Australia after claiming a 13-run win over Australia in the third one-day international in Canberra on Wednesday despite the best efforts of an electric Glenn Maxwell to mow them down.
With emerging all-rounder Cameron Green handed an Australian debut as part of a new-look side missing the injured David Warner and Mitchell Starc and a rested Pat Cummins, Virat Kohli's men seized the opportunity to take some momentum into the Twenty20 series and Test campaign ahead.
Australia captain Aaron Finch continued his post-IPL discovery of form with 75 runs from 82 balls in pursuit of India's 5-302, and Maxwell's 59 from 38 lit up the venue, most notably with a staggering reverse-sweep that travelled 20 rows deep.
However, Maxwell's departure in the 45th over took the wind out of Australia's sails just when he was threatening to pull off a stunning run chase for the second time in four matches.
Despite the result, Australia were victorious in the series 2-1 and will return to Manuka Oval on Friday night hoping to draw first blood in the T20s.
Maxwell's exhibition followed a call this week from former Test captain Ian Chappell for administrators to ban switch hitting, arguing the practice was not fair to bowlers.
"It's within the laws of the game," Maxwell said. "I think batting has evolved in such a way that's just got better and better over the years. It's why we see these massive scores getting chased down and the scores are going up.
"I suppose it's up to the skills of the bowlers to combat that. I just see it as a different part of the evolution of the game."
It hadn't seemed as if Australia would be set a 300-plus target earlier as spin duo Adam Zampa (1-45) and Ashton Agar (2-44) impressed and Josh Hazlewood had the number of Kohli (63 from 78) for the third time in the series.
But plans had to be quickly adjusted as Hardik Pandya (92 not out from 76) and Ravindra Jadeja (66 not out from 50) cut loose, thrashing 98 runs from the final eight overs. Sean Abbott, in his first ODI since 2014, was hit for 49 in his last three overs.
While Australia could have used Cummins at the death, Warner also left a hole after he sustained a nasty groin injury at the SCG on Sunday night, and Starc was nursing a rib and back niggle.
Into Warner's place alongside Finch stepped Marnus Labuschagne, but the new opening duo could not reap the rewards of the old one in Sydney, with Labuschagne chopping mature-age debutant T Natarajan (2-70) onto his stumps for seven.
Australia lost another when Steve Smith – stop the presses – couldn't manage another 62-ball hundred as he had in the previous two matches, instead strangled down his leg side to seamer Shardul Thakur for seven.
Working some cross-seam magic, Thakur (3-51) proved a more than capable replacement for the rested Mohammed Shami, collecting a second wicket when No.4 Moises Henriques dragged one to midwicket on 22.
Finch looked the key man and, after slog sweeping Jadeja for six to bring up his fifty, he moved within sight of a second century of the series.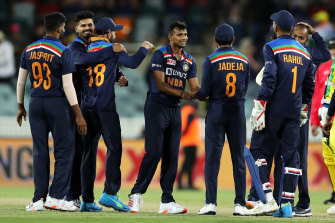 But soon after Green made his entry to international cricket as a batsman, the captain hoisted Jadeja down the ground and was caught in the deep by a man who had earlier dropped him, Shikhar Dhawan.
Green, who had been thrown in the deep end by bowling the first of his four overs to Kohli, made an impression when he dropped to a knee and lifted Jadeja over midwicket for six, then leaned onto the back foot and smacked Kuleep Yadav through cover for four.
The spinners had their revenge, though, with Jadeja taking a brilliant diving catch as the all-rounder went to sweep Kuldeep again on 21.
That brought together Maxwell and Alex Carey, who set about trying to reprise their match-winning roles from Old Trafford in September but were thwarted when Maxwell turned Carey (38 from 42) back as the wicketkeeper-batsman set off for a second run and was stranded well short of his ground.
With Maxwell in full flight alongside Agar, the winning equation was down to 35 from 33 balls and the crowd of 5144 was shown his full back of tricks.
However, when the maverick batsman shaped to take Jasprit Bumrah through the covers and was bowled, Australia were left up against it and were all out for 289.
"I suppose it's up to me to finish that game," Maxwell said. "Probably the changing point was the run-out with Carey, which was probably 100 per cent my fault. I think that was probably a key moment of the game which I probably stuffed up.
"But in saying that I feel like I probably should have iced that game from there. But they're allowed to bowl well and Bumrah is a class finisher."
Chris Barrett is Chief Sports Reporter of The Sydney Morning Herald.