Cricket Australia supremo best-paid chair in Australian codes
Cricket Australia benchmarked chairman Earl Eddings' salary against those of publicly listed companies before boosting his income from $204,000 to $250,000 plus travel allowances last year, leaving him paid at least $100,000 more than any of his counterparts at other major Australian sports.
The details of Eddings' remuneration review were revealed in an internal email from the chair of the CA board's People, Culture and Ethics Committee, Michelle Tredenick, to fellow directors in October 2019 in which she also detailed the governing body's decision to stop officials including the chairman being paid as much as $US500 ($696) a day in cash by the International Cricket Council when they attended meetings in Dubai.
According to the document, Eddings had his salary increased by 23 per cent - and was awarded a travel fee of $5000 per trip to ICC meetings - after Tredenick commissioned consulting giant Mercer in August 2019 to undertake an external benchmarking review of chair fees.
A CA spokeswoman said on Monday all directors had chosen to take a 20 per cent pay cut on April 1 this year, as did executives, as the economic impact of the coronavirus pandemic placed financial strain on the game and jobs were lost. That would equate to a reduction of $50,000 a year for Eddings over a period of 12 months and an $8000 decrease for other directors, who were on $40,000 a year.
Eddings, however, remains on a significantly better wicket than the chairs of Australia's other leading professional codes. Australian Rugby League Commission chairman Peter V'landys, who effectively established the road map for the re-starting of sport in Australia in the winter by personally driving the resumption of the NRL season in May, is paid about $150,000 a year.
Rugby Australia chairman Hamish McLennan receives $40,000, which he is believed to have donated back to the cash-strapped sport for use at grassroots level. The annual fee for AFL chairman Richard Goyder is $10,000, as with other commissioners, but the convention is that they donate it to a community football program. This year they declined any payment because of the coronavirus pandemic.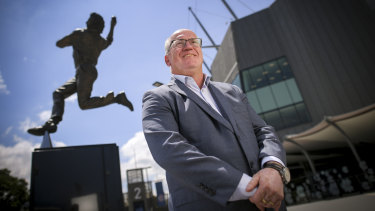 According to sources, the chairman's pay review compared his income with the salaries of those atop the boards of companies including entertainment groups like cinema and theme park operator Village Roadshow, the reasoning being that cricket is entertainment.
In her October 14, 2019 email to fellow directors, Tredenick said the Mercer report had "found that the chair fee was just below the 50th percentile for the 2 peer groups used - listed, general mercer database companies. It also found for member based orgs (where we could obtain data) that the fee was also below comparable chair levels."
CA defended the salary rise for the chairman, which has been a paid role since Jack Clarke rose to the position in 2008, citing its international component.
"An increase to the chair salary was approved last year to better reflect the workload, time commitment and expectations of the role," a spokeswoman said.
"Salaries had not been reviewed for a few years so an independent external assessment was undertaken and the results were less than comparable benchmarks. Directors suggested any re-adjustments should focus on the role of the chair given the extraordinary commitment required to fulfil the role including ICC commitments. Earl was not privy to these discussions. This was canvassed with states and accepted."
Eddings, who became an independent on the CA board in June 2019 after previously being there as a nominee of Cricket Victoria, has been chairman since taking over when David Peever resigned in November 2018.
While CA is yet to begin the search for a new full-time chief executive, saying it won't start that process until February next year, the other significant leadership question off the field is whether Eddings will look to continue on beyond the end of his term in October 2021.
By then the CA board will contain three new directors - former NSW premier Mike Baird and ex-Test wicketkeeper Ian Healy and Dr Vanessa Guthrie - although they can't officially join until next year because of a stipulation that there be a four-month period between a person switching from a state board to the national one.
Chris Barrett is Chief Sports Reporter of The Sydney Morning Herald.