Greater Western Sydney skipper Stephen Coniglio delivered an impromptu rallying cry to his teammates on Monday, saying he only wanted players at the club who were fully committed, as it emerged defender Aidan Corr has left the Giants' hub.
An emotional Corr told coach Leon Cameron, with whom he is close, on Monday night he would not be at the Giants next year, before informing his teammates shortly after.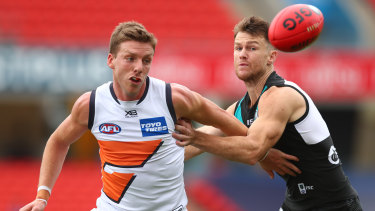 As Corr is injured and unlikely to play again this season – even if GWS were to head deep into the finals – he and the Giants agreed mutually he should return home to Sydney.
One of the club's longest serving players, Corr has been heavily linked to a move to North Melbourne, who coincidentally are also staying at the same accommodation as the Giants in Queensland.
Corr's departure comes as the Giants re-signed forward Jeremy Finlayson to a new deal keeping him at Sydney Olympic Park until the end of 2023. Much-improved midfielder Harry Perryman is also close to agreeing to terms, a source familiar with the issue said.
Coniglio addressed Giants players in a bid to galvanise the group after a turbulent few days that have seen much debate about the captain's axing from last week's side. Corr had left the room by that stage.
Last year's runners-up, the Giants are unlikely to make this year's finals series. They need to beat St Kilda on Friday night and have other results go their way.
Coniglio's address impressed senior figures at the club, who are adamant his non-selection did not undermine his leadership, as suggested by former Geelong premiership captain Cameron Ling. Coniglio is expected to be named in the Giants side to face the Saints.
"Stephen could easily be walking around our hub wallowing in pity and saying 'woe is me', but he's been the total opposite," Cameron said.
"That's why he's going to be an absolute super captain and a super player for our footy club for a long, long time. Has he hit a road bump? Absolutely. But [I have] great confidence he will get over that.
"Our relationship is so strong. Our coaches, our players' relationship with Stephen Coniglio is so strong. People can dig all they like. The proof will be in the pudding and they'll see that."
Corr hurt his ankle against Adelaide and was out for three to four weeks, Cameron said. The longer end of that time frame would have him available for the preliminary finals, if the Giants were to get that far.
"The players were disappointed," Cameron said. "Timing is everything. Clearly we're in an interesting set of circumstances. You're actually living together; it's not as if you're in a normal set of circumstances we've seen in the past.
"The players were disappointed. But equally Aidan Corr has been a very, very good servant of our footy club. He's a fine young man, he clearly wants to start up family from where he's from back home in Melbourne. He's got his reasons.
"I thought our players handled that really, really well. They were a bit shocked like myself and the other coaches. We've been working feverishly throughout the year to secure up his services. It hasn't gone our way. We've been very open and honest about it, like I'm letting you guys know now.
"That's what happens with free agency. It probably would have been a lot different if Aidan was still playing because he's totally invested.
"He probably can't see that he was going to get back because of the significant ankle injury and so the best thing was to move on, head back to Sydney and we sort it out after the season finishes.
"We probably thought it was best he head back home to Sydney while we're continuing our journey here."