Queenslanders aged over 60 to be offered Pfizer jabs
People aged over 60 will be able to opt for a Pfizer vaccination jab in Queensland from this weekend.
Queensland Premier Annastacia Palaszczuk said the move was possible as supply of Pfizer from the federal government had finally increased.
"They said to me, loud and clear, they want to have a choice of vaccines. Well, I say, let's give it to them," she said.
"Now that everyone from the age of 12 is eligible, I want to see generations of families turning up to get vaccinated.
"Last week, we put 146,182 doses into the strong arms of Queenslanders."
The Premier said 189,450 Pfizer doses arrived on Monday.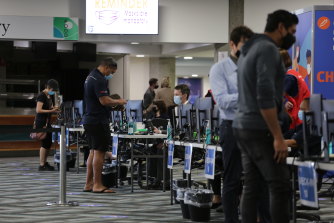 It means over-60s in Queensland can finally choose whether to receive an AstraZeneca or Pfizer dose, joining Western Australia, South Australia and the Northern Territory in offering Pfizer to the older age group.
Over-60s will be able to receive a Pfizer vaccine at any of Queensland Health's 80 vaccination hubs, starting this weekend.
The decision may allay vaccine hesitancy and boost Queensland's jab rate – with the state coming last in the country when it comes to first doses and second-last in second doses in the latest national data – from Sunday.
As of Tuesday, 57.12 per cent of eligible Queenslanders have received one dose and 38.78 per cent were fully vaccinated.
In Queenslanders aged 60-69, 79.26 have had a first dose, while 51.50 per cent have had both doses.
Of people aged 70-79, 89 per cent have received a first dose and 69 per cent both doses.
"I'd like to see every single elderly resident in Queensland vaccinated," Ms Palaszczuk said.
The state will also offer walk-in jabs this weekend in a "super weekend for vaccinations" at community vaccination hubs, while bookings will also be available.
Queensland recorded no new community-acquired cases, with the state appearing to quash a recent outbreak sparked when a student at St Thomas More College at Sunnybank tested positive.
Ms Palaszczuk said no area in the world had stopped the spread of the Delta strain of the virus, "except, at this stage, in Queensland".
"Once again, the people of this state have been threatened by a COVID outbreak and once again they have fought back," she said.
"Everyone who wears a mask, everyone who uses the check-in app, everyone who gets tested and vaccinated deserves the credit for keeping Delta out and our economy open."
Ms Palaszczuk paid tribute to the mother of the St Thomas More College student who had her daughter tested for COVID-19 when she reported a headache.
"I have no doubt that swift action - and the sacrifice of 1000 St Thomas More families currently in home isolation - has saved millions of others from the very real prospect of a lockdown," she said.
There were 15,812 tests performed in the past 24 hours, with 24,947 vaccines delivered in Queensland Health vaccination hubs - a record.
More than 4 million vaccines have been delivered in Queensland.