Palaszczuk fires up at reporters over questions about private emails
A defiant Annastacia Palaszczuk has refused to release emails from her personal accounts and denied she has done anything wrong during a tense stand-off with reporters on Monday.
Ms Palaszczuk has again come under fire over her two personal email accounts – stacia1@bigpond.com and apbounce11@gmail.com – after it was revealed some correspondence involving those accounts might be categorised as "public records".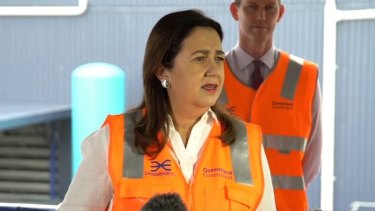 One email, tabled during a December estimates hearing, suggested Transport Minister Mark Bailey had written to the Premier about a job candidate's ideological stance before he was hired.
Ms Palaszczuk told Parliament in 2017 she had not used her private account for work business.
On Friday, Crime and Corruption Commission chair Alan MacSporran said while it was "frankly inappropriate" for government business to be discussed on personal accounts, it did not warrant an investigation, and he believed "it was all done for convenience".
"It just looks bad – it looks as though you are trying to hide something," he said.
Mr MacSporran said some of the emails might "properly be categorised as public records".
During a tense press conference on Monday, Ms Palaszczuk said the emails had been through a Right To Information process.
"There's a process here – it goes through the RTI and all of them have been retained so if you have an allegation, put it to me.
"If you have an allegation, put it to me," she repeated.
"What is your point? What is your allegation?"
Opposition Leader David Crisafulli again called for the emails to be released.
"The Premier said if there's an allegation, to put it to her," he said.
"Well, we allege there are things in those emails she doesn't want Queenslanders to see, and that is dodgy.
"Everybody in the state deserves answers and the behaviour that was just witnessed at that press conference suggests to me that this is an issue we must continue to pursue."
Ms Palaszczuk said she took her integrity "very seriously" and, when asked if she misled Parliament in 2017, said: "I always believe what I say in Parliament to be correct.
"I don't believe there's a mess at all – everything that has been done has been done."
Lydia Lynch is Queensland political reporter for the Brisbane Times