Berejiklian defends Turnbull hours after he was dumped from government role
NSW Premier Gladys Berejiklian says her respect and admiration for Malcolm Turnbull would be "everlasting" after the former prime minister was sacked as head of a climate change advisory body.
In a staunch defence of Mr Turnbull just hours after he was dumped as chair of the NSW government's net-zero emissions and clean economy board, Ms Berejiklian said Mr Turnbull deserved "our collective respect".
"We don't always have to agree with what everybody says or does but we have to really encourage people to speak their mind and be true to what they believe and I just want to thank Malcolm and continue to respect and support everything he does," Ms Berejiklian said.
"Whether you agree with him or not, he's always been very courageous in his views and that's something that should be respected."
Energy and Environment Minister Matt Kean made the decision on Tuesday to sack Mr Turnbull from the role after days of criticism from some right-wing MPs. He told Ms Berejiklian of his intention, and she did not object despite supporting Mr Turnbull's appointment.
The move comes as the Nationals prepare to preselect a candidate on Wednesday night for the must-win Upper Hunter byelection, which will be a battle over the future of coal in the region.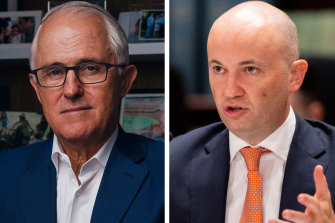 One Nation is also finalising its candidate, likely to be a coalminer, as is Labor and the Shooters, Fishers and Farmers. The government holds the seat with a margin of just 2.5 per cent.
The government is already in minority, after the resignation of the former Upper Hunter MP Michael Johnsen who is facing rape allegations, and with Liberal MP John Sidoti on the crossbench as he faces a corruption inquiry.
Ms Berejiklian, who last week said she had "no doubt" the government would lose the byelection, said Mr Turnbull had made a huge contribution to Australia.
"At the end of the day the decision was made and we all move forward but I want to stress for me personally it doesn't take away from the admiration and respect I have for Malcolm Turnbull, that will be everlasting," Ms Berejiklian said.
"Malcolm Turnbull is someone that deserves our collective respect. A former prime minister of great intellect, a great Australian, a great contributor and I just want to thank him for all he has done for our nation and for all he'll continue to do in public life."
Ms Berejiklian said she accepted Mr Kean's concerns that the appointment "is unfortunately for everyone concerned it was proving to be a distraction".
Agriculture Minister Adam Marshall, who joined Ms Berejiklian at the Royal Easter Show on Tuesday, said: "I have never met Malcolm Turnbull, I don't know the man at all, and quite frankly I find the discussion about him and the whole position is quite frankly pathetic given the breadth and importance of issues that rural and regional NSW is confronting at the moment."
Mr Turnbull, who was only appointed to the five-year role last week, said he was "disappointed" by the decision to remove him from a position approved by the NSW cabinet but acknowledged "government appointments are a matter for governments".
With Peter Hannam
Alexandra Smith is the State Political Editor of The Sydney Morning Herald.