Joyce promises multibillion-dollar coal export train to Gladstone
Deputy Prime Minister Barnaby Joyce says an extension of the multibillion-dollar Melbourne to Brisbane inland rail project to Gladstone can be "booked in" as a federal election promise to potentially unlock significant coal resources in the Surat Basin.
As the junior Coalition partner haggles over the federal government's long-term emission targets ahead of next month's United Nations summit in Glasgow, the Nationals leader said the $3 billion, 500-kilometre route that would transport thermal coal from Toowoomba to Gladstone was a "logical" addition to the project.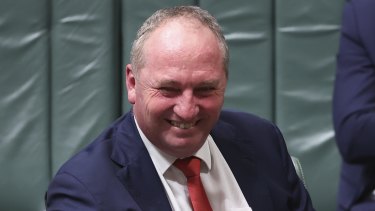 The link has been ruled out in a series of government feasibility studies but the commitment is viewed within the Nationals as critical to holding on to the Queensland seat of Flynn, which will be vacated by long-time MP Ken O'Dowd at the next election. Labor has hopes it can win the seat back after a decade, despite an 8.6 per cent margin to the Liberal-National Party.
Advocates for the Gladstone extension argue it would drive investment in the region's coal resources and help transport exports from existing mines to Gladstone as an alternative to current freight through suburban Brisbane for export via the Port of Brisbane.
Construction has begun on the 1700-kilometre Inland Rail line, which will run from Melbourne through central Victoria, inland NSW and into Toowoomba. However, the final route through Brisbane to the port is yet to be finalised or funded.
"I'm not a goose, we want the coal trains to go to Gladstone, not to Toowoomba," Mr Joyce told ABC Radio Brisbane.
"Gladstone is designed as an industrial city, and now the [Brisbane] port authority will probably be losing their minds with me because they'll be wanting the tonnage to go through there.
"But Gladstone is the logical place for offloading massively long trains, you roll them in and roll them out, all the facilities are there and it's designed to do that.
The federal government last month announced $10 million to undertake a business case, which if realised could lift the cost of the project from $15 billion to $20 billion.
It would also leave the government open to accusations of granting further taxpayer subsidies towards fossil fuels at a time when it is under increased international pressure to ramp up its transition towards a low-emissions economy.
Mr Joyce said he would take the proposal to the federal election next year and believed as a "project of significance" it should be streamlined to "make it happen quicker".
Mr Joyce's predecessor, Michael McCormack, previously ruled out the Gladstone option as not economically viable, with a pre-feasibility study finding forecast demand for the connection was not sufficient to justify the capital cost.
The study found if the supply chain to the Port of Brisbane were to become further constrained, following construction of the Inland Rail and international demand for thermal coal were to increase sufficiently, then further analysis could be undertaken for the most efficient investment for rail access to areas of the Surat Basin.
Mr Joyce has previously sold the massive project as "great" carbon abatement project, raising hopes within the Liberals his party may agree to adopt net zero emissions by 2050.
He told Federal Parliament in August that each train on the 1700-kilometre link between Melbourne and Brisbane would remove from the road 150 semi-trailers, each of which uses about 600 litres of diesel.
The Business Council of Australia said last week the Inland Rail would cut carbon emissions by 750,000 tonnes per year from 2050 by taking 200,000 trucks off the road per year.
Regional Health Minister David Gillespie said his fellow Nationals MPs were not putting a price tag on conditional support for any net zero policy.
"We just want a policy that won't disadvantage the whole nation," Mr Gillespie told the ABC.
"Some people have said they are just worried about regional Australia, I have some concerns about unintended consequences of this [net zero] target which could destroy the livelihoods of many industries."
Rob Harris
is the national affairs editor for The Sydney Morning Herald and The Age, based at Parliament House in Canberra
Connect via email.