Opinion
Prince Charles is dipping his toe into grubby puddle of Sydney development but for what?
Two little bays, two big bullies. Neither Harry Triguboff nor the Prince of Wales would countenance towers next door, stealing their view and morning sun. Neither would tolerate an outdoor space barely big enough to swing a small south-facing cactus. Yet somehow they get to impose this stuff on Sydneysiders and head home to their sunny palaces feeling good about it.
In case you think I'm being unfair, let me define "bully" as someone using their immense power to override the small and powerless in contradicting processes that should apply equally to all.
First, Glebe. You might wonder why the Prince of Wales would dip his lilywhite toe into the grubby puddle of Sydney's development culture. This joint project between Prince Charles and the NSW government deploys his reputation for progressive decency to enable a raft of their neo-Liberal agenda-items: flogging public land, neglecting heritage, tripling height limits and densities and burying public housing under the private for-profit sort.
I was there, in 1984, for Charles's notorious "carbuncle" speech at the Royal Institute of British Architects's gala dinner. He likened a competition-winning design for the National Gallery in Trafalgar Square to a pustule on the face of a beloved friend. Furore ensued. Quite rightly because, although many agreed about the architecture, Charles, as constitutional monarch-in-waiting, had no right to distort due process by saying it.
Inverting Voltaire's famous "I disapprove of what you say but will defend to the death your right to say it", I wrote: "I agree with what you say but believe you had no right to say it."
Since then, Charles has intervened in scores of projects, building many – including the faux-old Poundbury, in Dorset, and seriously ugly Prince's Terrace, Adelaide. Now, it's the, guh, Prince's Quarter in Glebe, cramming private housing onto public land.
The proposal is this. Remove the Cowper Street site from the St Philips Conservation Area, rezone it, demolish the current two-storey public housing and build eight storeys instead. It's hugely dense: at a floor space ratio of up to 4.3:1 (so the built area is 4.3 times the site area) it is as dense as Central Park. And of its 75 apartments, 39 will be private.
Heritage? The heritage consultant, Extent, insist its heritage impact is NEGLIGIBLE (their caps). Then again, they're paid to say that. More surprising is support from the City of Sydney council, which admits "some overshadowing" on adjacent public housing but "only" in midwinter, until noon. As if that wasn't the most important sun, especially for people with few other pleasures.
True, it increases public housing – but only by a piddling 15 bedrooms, max, against a wait list of 60,000. Fifteen bedrooms is half-a-dozen dwellings. You could do that without busting the height and heritage controls wide open, without threatening the rest of this delicate area.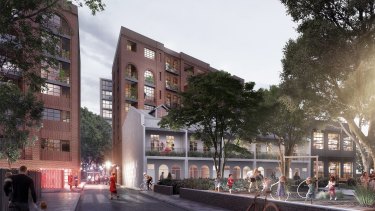 Because this cancer will spread. With towers on the old fishmarket site and the nearby 10-storey Mezzo and West End gentrifications, selling for millions, this 50-year slide from a culture that gives poor people space and sunshine to one that crams them into the shadows will be unstoppable.
There's also this. Why involve a prince if, like any rubbish developer, he's just going to help the government break the rules, triple the density, trash heritage protections, and gentrify everything in sight
Which brings us to the Meriton proposal for Little Bay. Little Bay was developed a decade back, you'll recall, with an award-winning masterplan from Hill Thallis and McGregor Coxall and some surprisingly attractive apartments and town houses. People loved living there – sea, beaches, golf courses and a stylish, medium density urban village: what's not to love? Then, three years ago, Meriton bought the undeveloped half of the site, and everything started to go pear-shaped.
Some 588 people live there, in 226 dwellings. The existing masterplan allows this to double: 224 more dwellings with 582 more people – plus a park and a kids' playground. Sounds quite nice, right?
Think again. First, Meriton fenced off its 11 hectares, which forms the middle of the site – so no one has been able to use the already made streets, park or playground, which have fallen into neglect. Then, Meriton put on its 10-times magnifying glasses.
Instead of 224 dwellings it wants 1909. Instead of 582 people, almost 5,000. Instead of 321 cars, 2736. Instead of five storeys, 17.
And it's dense. Really dense. Goodbye morning sun. Goodbye water view. Goodbye sweet seaside village. Goodbye pretty park. Hello grim, solid-packed, soviet-style blocks, a la Pagewood, a la Mascot, only more, bigger, taller. And it goes further. In a future land grab masquerading as strategy, Meriton wants to spread the same treatment across the huge site to the north. What's there now? You guessed it. Public housing and, oh yes, a jail.
Bizarrely, since Meriton's scheme is over nine times bigger than permitted, its consultant Urbis insists the project is "highly consistent" with local planning schemes.
Yet by June, when both the local planning panel and Randwick Council responded with unanimous rejection, Meriton had already spent nine months meeting with the department – eight times between August 2019 and June 2020, all at deputy secretary level or higher, twice with secretary Jim Betts and Harry Triguboff together. The agenda, in one email from Meriton (November 21, 2019, 3.37pm), included "initiatives to fix the planning system".
You can call this strategic planning. It's strategic only in that it makes government into an appeal system for developers. If you can outrage the locals sufficiently, provoke rejection, you go straight to the "independent" planning panel. They're about as independent from the minister who appoints them as Urbis from Meriton and Extent from the Prince. Collect $200. Home to the palace.
Elizabeth Farrelly is a Sydney-based columnist and author who holds a PhD in architecture and several international writing awards. She is a former editor and Sydney City Councilor. Her books include 'Glenn Murcutt: Three Houses', 'Blubberland; the dangers of happiness' and 'Caro Was Here', crime fiction for children (2014).