Party planner to the royals and rock stars
LADY ELIZABETH ANSON: 1941 - 2020
She was born at Windsor, but unlike her royal relatives, she had to make a living and went to work at 19. Cripplingly shy, by her own account, she nonetheless became a professional hostess, organising over-the-top events for, as she put it, "the very rich, the very idle, the very busy and the ones who simply haven't a clue what to do."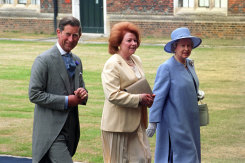 Lady Elizabeth Anson, indefatigable party planner to rock stars and royals and a cousin to Queen Elizabeth, died on November 1 at a hospital in London. She was 79.
Lady Elizabeth could handle protocol like a general. She knew that the Queen liked her lamb well done, and that the Queen should be served the first three slices of a roast. She felt that the secret to a successful party, along with easy access to the bathroom and to the bar, was to seat the boring people together; to her mind, they would never know the difference. It was a dictum so often repeated that guests at a Lady Elizabeth affair began to wonder if they had been seated at the boring table.
Among the many, many thousands of events Lady Elizabeth oversaw — over a half-century's worth of glittering shindigs — were the Queen's 80th and 90th birthday parties, as well as Margaret Thatcher's 80th. In 2000 alone, in "a dazzling triple-header" as The Times of London put it, she pulled off celebrations of Prince William's 18th birthday, Princess Anne's 50th and Princess Margaret's 70th. Lady Elizabeth also organised the dinner the night before the wedding of William and Kate Middleton.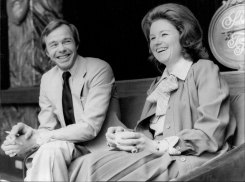 But the royals were not the only clients of Party Planners Limited, Lady Elizabeth's company, which she started in 1960. She planned the wedding of Sting and Trudie Styler in 1992, for 250 guests at Sting's Elizabethan manor, as well as that of Sacha Baron Cohen and the actress Isla Fisher. As was her practice, for privacy and efficiency, Lady Elizabeth assigned Ms Fisher a code name - Sally Dangletrot - and the actor wore a succession of wigs as they toured wedding sites. The Queen's ever-changing code name was at one point Shirley Temple, and no wigs were involved.
One of Lady Elizabeth's first jobs was a dance party at Windsor Castle for Prince Charles, then aged 15, and Princess Anne, then 13. It was 1963, and Lady Elizabeth was stunned to learn that spinning records was a profession.
Lady Elizabeth's parties weren't always so bread-and-butter. The police were once called to a bash for the Rolling Stones, in their hotel-room-trashing days, and it turned predictably raucous, ending with the guests throwing unopened bottles of Dom Pérignon out of a hotel window and into the Thames.
More recently, when she tented the back garden of an apartment building for an event, unknowingly blocking the light in a basement apartment, the enraged tenants there countered by frying fish and filling the tent with the smell of burning kippers. Lady Elizabeth reacted with typical ingenuity: She sprayed the tent with eau de toilette. The affair proceeded as planned, and without undue odour.
She often said that if guests weren't comfortable — if they were cold or couldn't find the bathroom — they would have a perfectly rotten evening, no matter how beautiful the party was or how delicious the food. For an event at the chilly Victoria and Albert Museum, at which the Queen was a guest, each place setting included a hot water bottle.
Elizabeth Georgiana Anson was born on June 7, 1941, on the royal family's Windsor Castle estate, outside London. Her father was Viscount Thomas Anson, and her mother was Anne Bowes-Lyon, whose father, John Bowes-Lyon, was the Queen Mother's brother.
Elizabeth's parents divorced when she was seven, and her mother married Prince George of Denmark. Elizabeth was immediately sent to boarding school. She often said that she learned nothing there except good manners.
The Telegraph, London.
Start your day informed
Our Morning Edition newsletter is a curated guide to the most important and interesting stories, analysis and insights. Sign up here.