Police explore Hamzy prison stabbing link to cousin Mejid's death
Police are investigating whether a prison stabbing between two members of the deadly Brothers For Life gang is linked to the execution of Mejid Hamzy outside his home in Condell Park in Sydney's south-west.
Vision of the violent incident inside John Morony Correctional Centre at Windsor has emerged which allegedly shows an inmate attacking Mohammed "Little Crazy" Hamzy, a cousin of Mejid and the notorious criminal Bassam Hamzy – who is in Goulburn supermax prison for a string of criminal convictions including drug supply, murder and conspiracy to murder.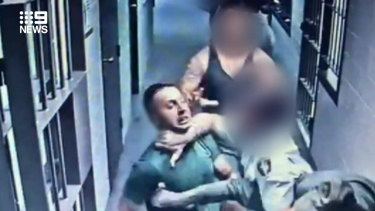 Mohammed Hamzy founded Brothers For Life over a decade ago with Bassam and another cousin, Ghassam Hamzy.
CCTV from inside the prison allegedly shows Mouhammed Houri lunge at Mohammed Hamzy, stabbing him three times with a metal shiv on Friday afternoon.