Jagamara's inestimable contribution to Australian art and culture
Kumantjayi Nelson Jagamara (c.1949-November 9, 2020)
The passing of Kumantjayi Nelson Jagamara on November 9, 2020, is a great loss to his family and friends; to the community of Papunya where he was a senior law man, civic leader and local hero; to the Australian art world, where his status was legendary; and to the nation.
It is almost 40 years since Kumantjayi Nelson Jagamara first stepped onto the national stage as inaugural winner of the 1984 National Aboriginal Art Award (now known as the Telstra). Less than a year earlier, he had begun painting for Papunya Tula Artists in his own right, leading a second generation of artists following in the footsteps of the founders of contemporary desert art.
That same year Jagamara won the commission for the design of the Parliament House Forecourt Mosaic. A stellar artistic career rapidly unfolded. His inclusion in the 1986 Biennale of Sydney made him the first Australian Indigenous artist to break through into contemporary international art circles and achieve individual recognition. In 1987, an 18-metre painting by Jagamara was installed in the foyer of the Sydney Opera House. His 1984 painting Five Stories was one of the most reproduced works of Australian art in the 1980s – and remains so. It featured on the cover of the catalogue of the landmark 1988-89 Dreamings: the Art of Aboriginal Australia, the first major exhibition of Indigenous Australian art in the United States since the 1950s.
Jagamara travelled to New York with Billy Stockman Tjapaltjarri to produce the first Central Australian ground paintings ever seen outside Australia in association with Dreamings. In 1989, he became one of the first Papunya Tula Artists to have a solo exhibition in a contemporary fine art gallery. The same year, Jagamara joined luminaries such as Calder, Warhol and Rauschenberg in BMW's "Art Car" project. His meticulously painted Dreaming designs transformed an M3 motor-race machine into the definitive "Aboriginal Art car".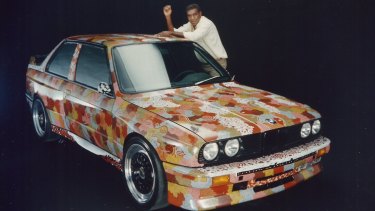 Jagamara changed his style over four decades working as an artist, and in his later years worked in a simplified scaled up action painting style, often working collaboratively with Indigenous and non-Indigenous artists, notably Imants Tillers. Throughout, he continued to paint the Dreaming stories passed down to him by his Warlpiri ancestors. His work has been instrumental in conveying the significance of Indigenous art and culture to a broad audience and in gaining acceptance for Indigenous land rights and self-determination.
Central to his legacy is the Parliament House mosaic, now a national icon, featuring on the $5 note. Jagamara stood beside the Queen and prime minister Bob Hawke at the 1988 opening ceremony explaining this gift from his people to all Australians, most especially his fellow Aboriginal Australians. Five years later the mosaic's power was demonstrated during the 1993 Mabo demonstrations. In a perfectly timed intervention, the artist's tearful threat to remove the central stone of his life's greatest achievement galvanised deadlocked negotiators into compromise and the historic native title legislation was passed into law.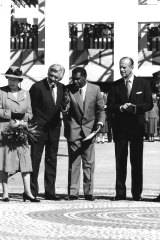 Seeing him operate with effortless command of the English language and W estern cultural mores, few realised that Jagamara's life journey had begun "footwalking" across his ancestral lands with his extended family. He was a young boy when he saw his first white men and hid in the bushes, terrified by their murderous reputation. No one could have imagined this skinny child with the deep-set penetrating gaze would go on to achieve international acclaim as an artist. But Jagamara's story, like so many others in Indigenous Australian art, is not a simple step from an idyllic life in the bush to art stardom.
In between the road is strewn with experiences of dislocation and dispossession: of land, family and culture. One of the key influences on Jagamara's early life was his grandfather Minjina Jakamarra, universally respected for his vast ritual knowledge and personal charm. He taught his grandson his stories and designs and also passed on to him the formidable intelligence and energy needed to triumph over the obstacles facing his generation.
Jagamara left school in Yuendumu at 13 after his initiation into Warlpiri law. He travelled north, droving cattle, shooting buffaloes on the Alligator Rivers, even a short stint in the army before heading back to Warlpiri country, settling finally in Papunya and marrying his wife of 40 years, Marjorie Napaltjarri and raising their children Julie, Jonathon and Sharon.
At our first meeting at the Papunya turnoff in 1980, he shared his ambition of becoming an artist. Our friendship has endured over the years, enabling me to witness the courage with which he faced every challenge and the seriousness of his commitment to reconciliation through mutual understanding. He was the driving force behind the establishment of Papunya Tjupi Arts in the heart of the Papunya community, ensuring that Papunya's painting traditions, like the Dreaming, would be carried on into the future by those who come after him.
Jagamara's contribution to Australian art and culture was officially recognised when he was awarded the Order of Australia in 1993 and an honorary doctorate from the University of NSW in 2008.
Viven Johnson is an adjunct professor of art and design at UNSW.