That's it for today. Thank you for reading our live coverage of the day's events. Here's what you need to know:
Victorian police arrested 92 people during a fourth day of unrest in Melbourne's CBD, but the anti-vaccination and anti-lockdown protests were on a much smaller scale than in the previous three days. A spokeswoman for Victoria Police said the arrests were for breaching the Chief Health Officer's directions, an offence that also attracts a fine of about $5500, as well as for other matters, including outstanding warrants.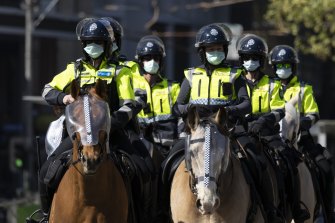 People who attended the larger protest in Melbourne's CBD yesterday are being urged to get tested for COVID-19, as one person who attended the demonstration is now being treated for the virus in hospital. A spokesperson for the Victorian Department of Health said this evening that public health investigations were under way into the positive case. "We are urging protesters to get tested should they experience COVID-like symptoms, no matter how mild," the spokesperson said. The person will be included in Friday's COVID-19 numbers.

Police were stationed outside the Construction, Forestry, Maritime, Mining and Energy Union's Melbourne headquarters earlier this morning after significant disruptions in the city on Wednesday. The protests were triggered by the Andrews government's decision to make COVID-19 vaccinations mandatory for the construction sector and have targeted the CFMEU. However, the union did not support the vaccine mandate and the protesters are not drawn solely from the construction sector. You can catch up on the full wrap of today's protests here.
NSW recorded 1063 new local coronavirus cases and six deaths. Four of the people who died were not vaccinated. A woman from the city's west in her 50s who was fully vaccinated also died at Liverpool Hospital. NSW's Chief Deputy Health Officer, Dr Marianne Gale, said the woman "had some serious underlying health conditions". A woman in her 90s from St Mary's Villa Aged Care at Dubbo, in the state's west, died after acquiring the virus at this facility. She had received one dose of a coronavirus vaccine. Her death is the fourth linked to the home.
There are 1244 COVID-19 cases in the state's hospitals. Of those cases, 233 people are in intensive care and 112 people require ventilation.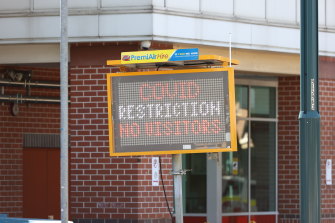 Twenty eight per cent of children aged 12 to 15 have now received a first dose of a COVID-19 vaccine in NSW. The vast majority of the age group only became eligible for the shot on September 13.
A second major COVID-19 outbreak is unfolding at Liverpool Hospital in Sydney's south-west, but authorities have revised the number of patients who have acquired the virus down from 24 to 20. Five staff members have also tested positive. A South Western Sydney Local Health District spokesperson said the cases were spread across four wards (not six, as the hospital originally believed). The cases occurred across the orthopaedic, renal, neurology and geriatrics wards. The cardiothoracic ward has not been affected. A total of 28 staff are in isolation as a result of the outbreak.
A coronavirus cluster has also emerged at North Sydney's Mater Hospital, after 14 patients and staff tested positive in the past week. A spokesperson for the hospital said five patients, eight staff members and one carer had tested positive to COVID-19.
Lockdown restrictions will end in Orange and Glen Innes in regional NSW from midnight tonight."There will be still standard restrictions and precautionary measures but they will be out and back to a more normal life," Health Minister Brad Hazzard said. Lockdown restrictions were eased in Brewarrina, Gilgandra, Lismore and Albury from midnight yesterday.
Victoria recorded 766 new, locally acquired cases of COVID-19, the state's largest ever daily coronavirus tally, and four deaths. Victoria's previous record was 725 daily cases reported in August last year. The state's COVID-19 response commander, Jeroen Weimar, said it was a "challenging number". More than half of the cases (55 per cent) were in households where there was a previous infection, he said.
Victorians stranded in Sydney and the ACT can come home from September 30, provided they are double vaccinated and test negative to COVID-19 in the 72 hours before leaving NSW, Premier Daniel Andrews has announced. "They will have to do 14 days of quarantine, but that quarantine can be done at their home," he said.
More than 23 per cent of 12 to 15-year-olds in Victoria have now received a first dose of a coronavirus vaccine and 80 per cent of Victorians over the age of 40 have received a first dose.

The four people who died in Victoria with COVID-19 were aged between their 70s and their 90s. Three of the people lived in Hume, in Melbourne's north-western suburbs, and one lived in the Moreland council area in Melbourne's north. There are 257 people in Victoria's hospitals with COVID-19. Of those, 60 are in intensive care. Forty-one people are on a ventilator. About 81 per cent of them are unvaccinated, 15 per cent are part-vaccinated and 3 per cent are vaccinated, Mr Andrews said.
The ACT recorded 16 new locally acquired cases of COVID-19, at least 11 of whom were infectious in the community. Twelve people are in hospital. "Canberrans aged 12 to 59 are eligible to receive the Moderna vaccine, so if you jump online now, you may be able to get a Moderna booking today," ACT Chief Minister Andrew Barr said today. "Pharmacies right across the ACT have access to the Moderna vaccine and there are bookings available."
Western Australia has reported no new cases of COVID-19, after a NSW truck driver who spent time in WA subsequently tested positive to the virus. This is good news for football fans, with the AFL grand final set to go ahead in Perth on Saturday. Ever the shrinking violet, West Australian Premier Mark McGowan said he was confident "it will be the greatest grand final ever".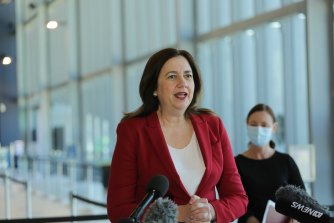 Queensland reported one new case of COVID-19 in the community, in a student at St Thomas More College at Sunnybank. She tested positive on day nine of home quarantine, where she has been during her entire infectious period.
Queensland Premier Annastacia Palaszczuk said her state already enjoys more freedoms than will be available to NSW and Victorian residents when 80 per cent of people aged 16 and over are fully vaccinated, as she defended her tough stance on borders. "In Victoria, at 80 per cent, they will be allowed 30 people to visit for Christmas dinner. Here, Queenslanders can have 100 people over," she said. Ms Palaszczuk did not answer a question about the level of vaccination at which it would be safe to reopen the state's borders. She said the national plan had not been finalised and further Doherty Institute modelling would be put before the next national cabinet meeting.
This is Michaela Whitbourn signing off on the blog for the evening. Broede Carmody will be back with you early tomorrow morning.