Opinion
An influence-peddler's guide (to the limits everyday folk expect of you)
Call me naive. Call me Kiwi. But I cannot see why our politicians find it so hard to be decent. Just about everyone I talk to regards our system as corrupt – but what do we mean by that, exactly? The Daryl Maguire shenanigans show that the direct exchange of money for favour is just the tip of it. There are far murkier ways to peddle influence. We ban developer donations but that clearly doesn't go far enough. So what, precisely, should we ban? And how should we ban it?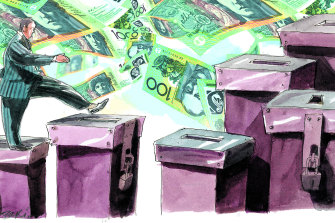 Back in 1991, in standing for the City of Sydney Council, Frank Sartor, Julie Walton and I made an election promise not to accept donations from developers. We meant it.
Once, at a Town Hall reception, a developer spilt wine on my cream silk shirt. It wasn't a big deal. I wash silk. But the next day, the developer sent a far more expensive blouse in recompense. I sent it back. For things like this, as much as our determination to protect heritage and urban texture, we were quickly badged as dangerous radicals.
But there's nothing radical about fairness and decency. Surely, they're the most boring of virtues. Decency only becomes radical when a culture construes public life as a bazaar of secret nooks and tunnels for the exchange of private favours.
In 2014, you recall, developer and then lord mayor of Newcastle Jeff McCloy complained of feeling "like a walking ATM" after he formed the habit of sitting around in his Bentley, with envelopes stuffed with up to $10,000 in cash, waiting for politicians. Responding to the proposition that the ban in the Electoral Funding Act on developer donations made this illegal, McCloy cited Mother Theresa as his guiding light and told the ICAC that these gifts were altruistic.
Indeed, so strongly did McCloy believe in the moral rectitude of his generosity towards those in power that he took action to defend it, all the way to the High Court. He also challenged the NSW donations cap (currently $6400 a year to a party and $2900 to an individual) and the ban on indirect donations, which offer an easy workaround.
McCloy argued that giving cash to MPs was a form of political expression and therefore a right protected by the Constitution's implied freedom of political communication. This may sound preposterous, but it draws on a principle upheld by the US Supreme Court that political donations are a form of speech and are therefore protected by the First Amendment.
Team McCloy also contended, naturally, that the money was freely given, with no expectation of quid pro quo. McLoy simply liked these guys. Believed in them. McCloy expected a win, since this was virtually impossible to disprove. But it is equally impossible to believe.
Urban TaskForce CEO Tom Forrest argued this week that developers were being "demonised" by the developer-specific donations ban. This only makes sense if the acceptance of moneys is in return for something. But Forrest rightly notes that developers are not the only culprits here, and cut-and-dried money-for-favours corruption is not the only issue. There's a much broader issue of undue influence.
In the McCloy case, Australia's lack of explicit free-speech protections worked weirdly in our favour. The High Court found in 2015 that "payment of money can hardly be regarded as a form of communication" and that governments are perfectly entitled to fend off the long fingers of corruption – for instance, by banning developer donations.
There's due influence, of course. There's opinion, argument, advocacy. But as Julie Walton points out in a 2016 paper for the Henry Halloran Trust, "influence acquired by the payment of money is inherently undue" and is at least as damaging to democracy as more explicit forms of corruption. Perhaps, being nebulous, it is worse.
Yet undue influence is everywhere in our planning system, and our democratic system more generally. It includes all those clubs of the great and the good – the so-called stakeholders – that charge hundreds for membership and hundreds more for dinners with ministers or premiers. It includes the legions of lobbyists who throng the corridors of power, trading access for money. And it includes what, in the Maguire-Berejiklian case, is termed moonlighting.
Moonlighting? The word sheds far too innocent a light. Why do MPs even need second jobs, given that every government MP now receives between $175,000 and $275,000pa – several times the average Australian income of $65,540?
Plus it's not like we're talking about a regular job on the side. Maguire wasn't supplementing his income by driving a bus or waiting tables in the local pizza joint.
No, this is a direct peddling of influence. What's even more blatant is that the current code of conduct – ratified by the very MPs it regulates – merely stipulates that if MPs receive extra income "for the provision … of any service involving the use of the Member's parliamentary position" it has to be disclosed. You can't speak in Parliament or in committee in favour of Mr Big Coal, but you can get a fat retainer from him and set up a cosy little ministerial chat. Do it outside the chamber door, disclose it and you're good to go.
What? Why wouldn't we ban MPs from all extracurricular employment that conflicts with their public duty? In fact, all extracurricular employment that in any way exploits their parliamentary role? (And no, farming would not be caught by this because, even were such an MP to lobby for farmer's rights, she wouldn't be earning money from that advocacy.)
We pay our MPs, as set out in the code of conduct, for "using their influence to advance the common good of the people of NSW". What's not clear about that?
Elizabeth Farrelly is a Sydney-based columnist and author who holds a PhD in architecture and several international writing awards. She is a former editor and Sydney City Councilor. Her books include 'Glenn Murcutt: Three Houses', 'Blubberland; the dangers of happiness' and 'Caro Was Here', crime fiction for children (2014).