Beware 'new paradigm' of talked-up tech stocks
Tech stocks are going gangbusters on sharemarkets around the world as investors double down on bets that the COVID-19 pandemic is going to permanently shift economies to be even more dependent on technology.
This is despite a global recession, soaring unemployment, and the reality that many businesses who have shut their doors during the coronavirus crisis may never reopen.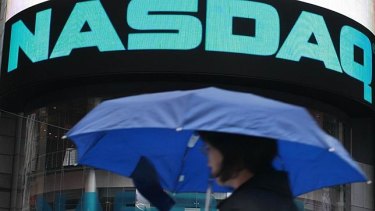 It is a stunning rise and rise for the tech stocks and is not confined to the US industry titans – the FAANG companies of Facebook, Amazon, Apple, Netflix and Google (owned by Alphabet). The minnows have been impacted, too.
The US tech-laden Nasdaq Composite Index is up more than 40 per cent from its big falls in February through to mid-March, and is now at a near-record high.
Share prices of Australian Securities Exchange-listed tech darlings have similarly recovered to be almost back to their pre-pandemic highs.
It is a view that the rocketing demand for digital connectivity is likely to remain after the pandemic – a shift to a new paradigm – that is mostly fuelling the fire.
And it is hard to argue against the proposition that we are becoming more dependent on technology in our everyday lives – from working from home to banking online – and the need for more cyber security.
Anders Sorman-Nilsson, founder of the Sydney-based trend analysis firm Thinque, reckons COVID-19 has compressed 10 years of major change into a single year.
While there is little doubt that the world will change because of the coronavirus, it is worthwhile recalling how tech sector investors have had their fingers burnt before.
The "tech wreck" of the early part of 2000 is still seared in the minds of many.
Much of the hype at that time was about how technology was changing the world. It didn't matter that a company was losing money, it was all about how it was working on the next big "killer app" or growing market share.
There were also comments at that time by US-based financial analysts talking about a "new paradigm".
Measures of a share's worth that involved a company's earnings, such as price-to-earnings ratio, were dismissed as "old hat" and not applicable to the business models of the new breed of tech stocks.
Yes, there were some technology companies lauded at the time that did go on to create very profitable businesses – and that will also happen this time around – but there were many more that fell by the wayside, taking their investors' money with them.
It was not anywhere near as easy for small investors to put their money into overseas-listed technology stocks 20 years ago.
However, the advent of cheap online brokerages and Exchange Traded Funds listed on the Australian sharemarket – some of which have core holdings of technology stocks – has made international investing the norm.
At least those who bought tech stocks on the market dip earlier this year have a buffer should sentiment quickly change.
However, overvalued tech companies remain one of the riskiest sectors of the sharemarket.
Writes about personal finance for The Sydney Morning Herald and The Age.