The first time I read Nora Ephron's I Feel Bad About My Neck, I was too young. I giggled through her neck nostalgia and the sartorial lengths she went to, as a woman in her 60s, to cover it: turtlenecks. I didn't heed her advice. I was more preoccupied with pimples, but 14 years on and I, and the world are very different.
On average we spend four hours a day staring down at our phones — myself, much more. Hunched and crunched in this way we're mechanically wrinkling our necks more than ever before, giving much younger people much older looking necks. And Ephron was right: age is all about the neck.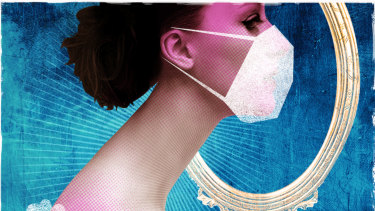 Maybe it's the aftermath of the coining of "tech neck", or a newly necessary accessory that covers half your face, but necks are in vogue. Influencers and models appear to be literally sticking their necks out to display a taut jawline, and neck contouring tutorials are trending like it's 2016 (when Kim Kardashian seemingly invented contour).
Bella Hadid, model and neck pin-up has recently changed her Instagram profile picture to a perfect but blown-out visage, where the dominating feature is a defined jaw and elongated neck, doubled, because she's pressed against a mirror. Which cements it in my mind, a taut, smooth neck is now as desirable as clear skin.