Tsiolkas reloads his alter ego for a sex and drugs-fuelled odyssey
When the pandemic hit Victoria, Christos Tsiolkas hoped it didn't mean the end for the programmed premiere of his new play Loaded, adapted from his 1995 debut novel. He and Malthouse Theatre toyed with the idea of presenting it outdoors, with the audience socially distanced and listening on headphones.
It was a wild, doomed idea. By second lockdown, "we just knew it wasn't going to happen, and I thought that was it, really," says Tsiolkas.
Malthouse's 2020 theatre season has gone the way of all others, the city's stages dark and dusty for the forseeable future. But Tsiolkas and the company were determined to save this soulful, brutally urgent story of Ari, a young Greek, gay teenager on a personal odyssey around the compass points of Melbourne.
So, in a Melbourne theatre first, they have produced it as a full-length audio adaptation, based on the unseen stage production.
Tsiolkas, 54, has long toyed with the idea of returning to Ari, whom he considers an "alter ego". It was the first time he discovered "you could say things and experience things through another character," he says. In after-dinner, over-wine conversations he asked people if they'd want to hear from a middle-aged Ari in a novel or play sequel to Loaded.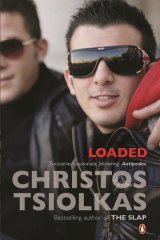 But instead, after being approached with the idea by director Stephen Nicolazzo, he teamed up with award-winning writer Dan Giovannoni, 34, to bring Ari to the present day. "If I had been working on my own I would probably have gone with the older Ari," Tsiolkas says. "But instead we said, 'Let's take this character and see what he would do, what he would say, in the present day'."
It presented challenges, he said. The novel is a love note to Melbourne, which has changed a lot since the mid-90s. Richmond is no working class suburb. Music is different. Drugs come with a new stigma, more related to social class than age.
Money is different – "The dream of leaving home and finding a place to rent is a really different concern for a young person now," Tsiolkas says. "In that way it's a much harsher world." Ari retains his disdain for technology but can't avoid the way Grindr, Tinder et al have changed hook-ups.
When it became an audio play this year, they kept it set in 2019 and ignored COVID-19. "I have a sense of danger in writing stuff from the present moment," says Tsiolkas. "When September 11 [2001] happened there was a whole spate of films and books that came out about it... and most of them were pretty bad. It's going to take some time to understand."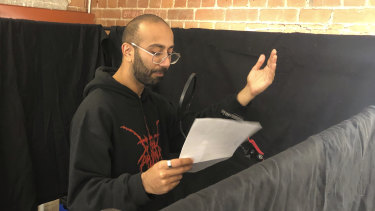 Rising star Roy Joseph in the lead role is a revelation, Tsiolkas says. "I have always felt like Ari belongs to me and to Alex Dimitriades, because of what he did in the film [1998's Head On, adapted from Loaded]... but Joseph has done astonishing work and he's had to do it all through f---ing Zoom."
The switch from stage to radio is actually the least radical transformation Loaded has undergone, Tsiolkas says.
"The intimacy of radio is much closer to theatre than if we were to do it as a video presentation," he says. The other day he took a long walk from Preston down to Merri Creek, taking in all four parts of the 104-minute production, and was absorbed from start to finish.
"It sounded new," he says.
The Loaded audio experience is available to ticket holders on Monday, 19 October and to the public from Friday, 30 October via malthousetheatre.com.au for $25.
Nick Miller is Arts Editor of The Age. He was previously The Age and The Sydney Morning Herald's European correspondent.