Plans for new Riverside Theatre in Parramatta get green light
Plans to build a state-of-the-art 1250-seat performing arts theatre across the river from the Parramatta Powerhouse as part of a new cultural precinct have been revived after a year of uncertainty.
City of Parramatta Council voted in a closed session this week to progress concept plans for the redevelopment of the Riverside Theatres using $100 million it received from government for the 2017 sale of a riverside car park for the museum's western Sydney HQ.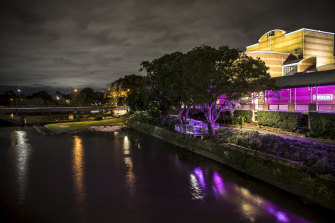 It endorsed the development of a new 1250-seat theatre capable of showing international musicals, a 340-seat multi-mode black box theatre space and a 60-seat development studio/screening room.
The existing Riverside Theatre would be rebirthed as the Riverside Playhouse, seating 650 to 700 people.
The move comes as the council resolved to approach Heritage and Arts Minister Don Harwin to intervene to protect the nearby heritage-listed Roxy Theatre from vandals and squatters.
A public campaign is under way to turn the former picture palace, now in private hands, into a 1900-seat lyric theatre.
The future of the Riverside Theatres redevelopment has been in limbo after a partnership deal to enlarge and enhance the tired building fell over last year.
In 2017, the NSW government agreed to pay council $140 million for the riverbank site, known as the old David Jones car park. A total of $40 million was to deliver council's 20-year arts and culture plan and a further $100 million was set aside to renovate the Riverside Theatres, with the government to take a 50 per cent share in the project.
Options set out in a 2019 business case for the Riverside redevelopment included a 1500-seat lyric theatre capable of drawing international musical productions. But the government and council failed reach a mutually agreed vision for the site and the money was returned to council.
The uncertainty ended this week when council broadly endorsed development of concept plans for a complement of theatres to serve Sydney's second CBD. Council will now explore design options, and finalise a budget and operating model which will be brought back for final consideration early next year.
Lord mayor Bob Dwyer said council would seek out government and commercial partners.
"We are ready to take Riverside into the future and are excited to reinvigorate plans for its redevelopment," the mayor said in a statement. "Council remains committed to investing the $100 million generated by the sale of land for the Powerhouse Parramatta into a redeveloped Riverside Theatres. We look forward to working with partners in the government and private sectors to breathe new life into the iconic theatre."
Chair of the parliamentary inquiry into Powerhouse Museum David Shoebridge has expressed doubts that the revamped Riverside and cultural precinct can be delivered solely with the funds the council has.
Built in 1988, Riverside Theatres is currently configured as a 761-seat theatre with a proscenium arch stage, orchestra pit, and fly tower, and hosts theatre, comedy, ballet, dance, music and musicals.
The 88-seat Rafferty's Theatre is used for small corporate events, seminars, stand-up comedy acts, small scale productions, cinema presentations or exhibitions. Lennox Theatre has a 213 person capacity and is a flexible, black box space that is currently adapted for a range of purposes.
Council's theatre plans acknowledge that any revival of the Roxy Theatre may be several years away pending negotiations between owner David Kingston and government.
Find out the next TV, streaming series and movies to add to your must-sees. Get The Watchlist delivered every Thursday.