ONLINE THEATRE
Come To Where I Am Volume 4
★★★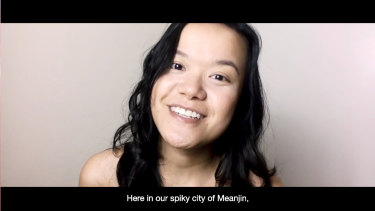 With theatre touring disrupted, Come To Where I Am offers an intimate window on landscapes and communities – especially in regional Australia – that might not hit the spotlight otherwise.
This series of short plays ranges widely in geography and experience in this fateful year. The pieces have divergent aesthetic approaches but share common ground, weaving landscape, community and identity into a vivid and soulful poetry of place.
That's certainly true of Time Capsule: Meanjin from Merlynn Tong. It takes the form of a 2020 video diary in which a languid evocation of Brisbane meets catastrophic headlines of summer bushfires and the shocking murder of Hannah Clarke.
As Australia shuts down the public folds into the personal: the lassitude of lockdown, the small pleasures denied; and the experience of being Asian-Australian ("sometimes I feel like I am the virus" ) amid a pandemic of Chinese origin. But there is also the solidarity of the Black Lives Matter rally, with optimism in Queensland's smooth path through the public health crisis.
Things are less rosy in Victoria. Ross Mueller composed an ode to his native Geelong under stage 3 restrictions, accompanied by moody footage of the swollen Barwon River, of empty servos and bridges, used car yards and pubs.
Footy is at the heart of the piece, which roves between nostalgic memories from the '80s, a demotic flurry of overheard conversation about the glory days of the Geelong Cats, and a meditation on how the regional city's inferiority complex shaped local pride.
Mary Anne Butler's Dingo starts with the driest dry season on record in the Northern Territory. After a bruising relationship breakdown, a middle-aged woman goes bush, seeking solitude in parched country. Her car gets stuck in sand and she rescues a starving dingo pup in a piece that never rises to the level of allegory, but does contrast ecological with psychological resilience.
And Ian Michael's Another Day in the Colony imagines pre-contact Perth and converts the grim history that followed – the frontier wars, dispossession and genocide; the continuing scourge of Indigenous deaths in custody – into a traumatised howl of anguish and rage.
Despite a poignant moment marching at Black Lives Matter with his father, the piece is gripped by an almost overwhelming despair: for First Nations people "the fight to exist just never ends".