This was published 2 months ago
Moving on and moving in: Quick rebound as Matt Toomua goes 'Instagram-official'
Six months on from the breakdown of his five-year marriage to cricketer wife Ellyse Perry, rugby union player Matt Toomua has gone Instagram-official with his new romance Naomi Cameron.
Emerald City is told things between Matt Toomua, 31, and Cameron, a 29-year-old psychologist from Canberra, have turned serious as she prepares to relocate to Melbourne to live with Toomua. The pair met through friends mid-last year when he was in the nation's capital for rugby.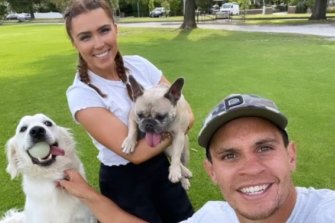 For those unfamiliar with the term "Instagram official", it's how Gen Z publicly acknowledges: "Yes, I am in a relationship with this person, and I'm ready for the whole world to know."
Cameron's older sister shared the couple's announcement to her own Instagram account last week and wished them well.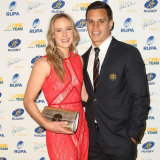 Recently announced as the Rachael Heyhoe-Flint ICC Female Cricketer of the Decade, Perry batted away rumours of a split last February after Emerald City noted her naked ring-finger at the Australian Cricket Awards and she unfollowed Toomua on – yes – Instagram.
But months later the former couple made an official announcement of their separation.
"It's with the greatest of respect for one another that we decided to separate earlier this year," the pair told this column at the time.
"We felt this was the right course of action and is in the best interests of each other and our current lives. This is something that has evolved and is a mutual decision."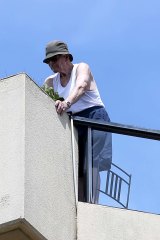 Business as usual
It's been more than two months since missing Dover Heights businesswoman Melissa Caddick vanished without a trace after corporate watchdog ASIC froze her bank accounts amid a fraud investigation.
Caddick, 49, is accused of misappropriating between $25 million and $40 million of money that her friends, employees and their families had entrusted her boutique financial advisory firm.
However, last week Caddick's father and husband were seen going about their business as they await news on their missing daughter and wife.
Caddick's father Ted Grimley was seen on the balcony of his Edgecliff penthouse last week tending to plants. Caddick purchased the south-facing unit for $2.55 million in 2016 as a gift for her retired parents.
Meanwhile on Friday, Caddick's husband Anthony Koletti was spied in Bondi where a bystander described the former hairdresser looking "down on his luck".
According to neighbours, lights at the couple's $7 million home Wallangra Road property haven't been seen switched on in weeks with Koletti, 38, believed to be living at his in-laws' apartment in Edgecliff.
ScoMo's sartorial slip
Prime Minister Scott Morrison returns to work tomorrow after what we trust was a more relaxing and lower profile holiday than his infamous sojourn to Hawaii.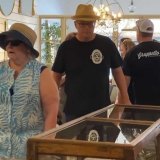 The PM was spotted by a young homewares enthusiast in the south coast own of Berry, where he stocked up on gifts from the Near and Far boutique. The store describes itself as "a portal to the world of interiors, craftsmen and artisans – a place to lose yourself and discover".
But it was Morrison's sartorial choices which caught the eye. The PM was looking casual and summery in a T-shirt from the Hairyman craft brewery in Caringbah in his electorate of Cook. "HOLD ON TO YOUR HAIRYMAN," the T-shirt proclaimed.
This isn't ScoMo's first fashion faux pas. In 2019 a portrait of the PM and his family went viral after a Photoshop failure to disguise his dirty trainers showed him with two left feet. The botched picture-doctoring attempt set social media alight after being dubbed #shoegate.
Knocking on heaven's door
Despite rumours of a split, actress Danielle Spencer and her author and cartoonist partner Adam Long are still very much an item.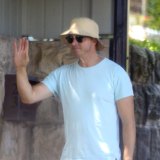 In fact, Emerald City understands Long has moved into Spencer's $10 million trophy home in Rose Bay, once co-owned by her ex-husband Russell Crowe. Crowe and Spencer purchased Te Puke, a six-bedroom home overlooking the fairways of the Royal Sydney Golf Club, months before their marital separation in 2011.
Last week Long, 55, was very much the man of the house when seen answering the door and accepting a delivery.
Meanwhile, across town, the former Gladiator actor Crowe, 56, and girlfriend Britney Theriot, 30, are understood to be going between Crowe's Woolloomooloo wharf apartment and his rural Nana Glen farm.
Got goss? lucy.manly@smh.com.au
Lucy Manly is a reporter and gossip columnist for The Sydney Morning Herald and Sun-Herald.