This was published 8 months ago
Fast cars and luxe living for Francesca Packer Barham and her new housemate
It's good to be a billionaire heiress, but it's even better to be her best friend. Just ask Double Bay hairdresser Jacki Mann, the newest bestie of James Packer's niece, Francesca Packer Barham.
In recent weeks the pair have become inseparable, popping up on each other's Instagram accounts, arriving arm in arm at Mimi's restaurant in Coogee for their Melbourne Cup soiree and even seen at Westfield Bondi Junction splashing $9000 on a cavoodle puppy they 'co-parent' together.
The fast friends seemingly can't bear to be apart, so much so that Emerald City is told they are now living together at Packer Barham's sub-penthouse in Darlinghurst's Horizon building.
The level 40 apartment boasts five bedrooms, 360-degree views of Sydney, a wine room, and parking for eight cars with an estimated $16 million price tag.
Mann has certainly become accustomed to living the life of the rich and famous. Emerald City is told Packer Barham generously gifted her custom matte black Aston Martin to her new housemate. Just last week Mann was seen pootling around Double Bay in his new wheels.
Divorce settlement sparks public outburst

Nine weekend weather presenter Lauren Phillips may have thought she could fly under the radar by relocating to Byron Bay with her aviation tycoon partner Paul O'Brien.
However, the former WAG of Gary Ablett Junior was thrust back into the spotlight last week when her ex-husband Lachlan Spark took a very public swipe at her. In a lengthy Instagram post, Spark accused his former wife of 'caring more about herself' during their relationship and said he 'wasted' years of his life with the wrong person.
"A while ago, I married a girl who cared much more about herself and how she was perceived than she did about me," Spark wrote. "I truly believed there was more to a relationship (and life) than skin-deep friends, free holidays and Instagram followers - I just needed to find it."
The couple split two years ago, and until now both have remained tight-lipped about their short-lived union. Emerald City has been told that their recent divorce settlement was the catalyst for Spark's outburst.
"It's no secret Lach wasn't happy with the outcome of their divorce settlement," a source said.
The split apparently cost Spark $50,000 in legal fees, after Phillips retained Pat Lennon, lawyer for hire for controversial jockey Danny Nikolic and underworld figure Mick Gatto.
On Friday, Spark spoke out again - this time to reveal the former couple's $1.3 million Melbourne townhouse, purchased to 'start a family', will go to auction next month. Spark told The Herald Sun no-one had really lived in the property, claiming Phillips had moved out "pretty much straight away" after the pair's extravagant wedding.
Sweet sucess for Pete Evans' reclusive ex

Very little is known about the former long term partner of 'paleo' Pete Evans, Astrid Edlinger with whom the celebrity chef has two daughters. The reclusive Edlinger owns Bondi confectionery store House of Chocolates which sells a wide range of treats that are distinctly un-Paleo.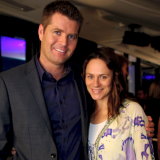 Edlinger and Evans, who share daughters Chilli and Indii, are understood to have split amicably in 2011. However it seems Evans' newfound fame may have played a part in their relationship breakdown. "He's got more famous and it inevitably changes anyone," Edlinger told The Daily Telegraph in 2012.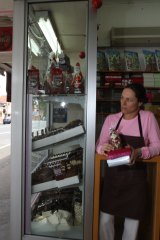 Business must be sweet for Edlinger who boasts an impressive property portfolio in North Bondi's exclusive Ben Buckler Point. Land title records show Ms Edlinger is the owner or part-owner of four apartments in the blue-chip coastal suburb.
Evans lost a number of business deals last week after he shared a meme on Instagram featuring a neo-Nazi symbol. Within hours, publishing house Pan Macmillan announced that they were "finalising" their contractual relationship with the former My Kitchen Rules judge, while Network 10 confirmed he will no longer be appearing on the upcoming season of I'm A Celebrity… Get Me Out Of Here!

Roxy Jacenko's younger sister welcomes her second child
PR maven Roxy Jacenko's younger sister, Ruby Davis, has welcomed her second child with husband Jackson Eisenpresser. The Los Angeles-based couple welcomed baby Barron six weeks ago, a little brother for Ace who was born in 2019.
Friends told Emerald City that the coronavirus pandemic has meant Ruby's mum Doreen Davis hasn't been able to travel from Sydney to the US to visit her fourth grandchild.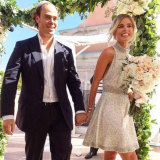 The youthful-looking and glamorous mother of Roxy and Ruby certainly has a lot to smile at the moment, not only welcoming a new grandchild but also a new relationship. Doreen, or "Dorsy" as she's affectionately known, has been dating ex-Warner Music Boss Chris Moss for a number of months. The pair have been spied looking cozy in Double Bay and Bondi Beach where Davis resides in the same complex as Hugh Jackman and wife Deborah Lee Furness.
Ruby and her headline-making sister Roxy have made no secret of their strained relationship after a public spat and Roxy applying for an AVO against Ruby. The application was later withdrawn. Ruby married Eissenpresser in a secret Beverly Hills ceremony in 2016 that her sister did not attend.
US-born Eisenpresser worked for Deutsche Bank and Goldman Sachs before he joined the former British PM's company Tony Blair Associates. The Oxford-educated businessman reportedly specialises in the Middle East and has had business relationships with royalty in the region.
Lucy Manly is a reporter and gossip columnist for The Sydney Morning Herald and Sun-Herald.