This was published 3 months ago
Opinion
Pioneer sculptor Margel Hinder took on our infatuation with gum trees
When Margel Hinder told an interviewer in 1972 that she was "terribly thrilled by all the television towers" it may have sounded like a joke about Sydney's suburban sprawl, but she was probably quite sincere. Hinder drew inspiration from both natural and mechanical forms, being as fascinated by a spider web as by a metal structure bristling with high-tension wires.
The artist had found it harder to generate enthusiasm when she first arrived in Australia in 1934. Born in Brooklyn and trained at art schools in Buffalo and Boston, Margel had met and married an Australian student, Frank Hinder. As the Depression tightened its grip on the United States the Hinders and daughter, Enid, relocated to Sydney.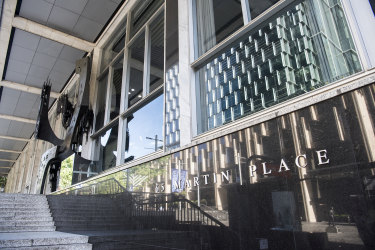 After the intellectual and cultural stimulation she had imbibed in her native country Margel found Australia to be a dull, backward place. There was little understanding of modern art, no interest in sculpture, and nothing much to see in the local art museums.
She'd consider it a distinct improvement that visitors to the Art Gallery of NSW today may sample the retrospective, Margel Hinder: Modern in Motion. There have been three joint retrospectives with husband, Frank – but this is the first time Margel (1906-95) has been given a show of her own. It's an event that fits into a new general emphasis on the work of women artists being pursued by museums around the world. It makes specific use of a sizeable archive of material acquired for the AGNSW collection by former curator, Renee Free.
I wish I could say it's a dazzling display that brings Hinder back into focus and reveals the critical role she played in the development of modern Australian sculpture … but it's a bit less dramatic than that.
Historically speaking there is such a dearth of sculpture in Australia that Hinder stands out as one of the few artists who devoted their career to the medium. She was a pioneer of modernism and abstraction in a country infatuated with gum tree paintings. She was also a dedicated believer in public art who spent the last decades of her career dreaming up large-scale projects.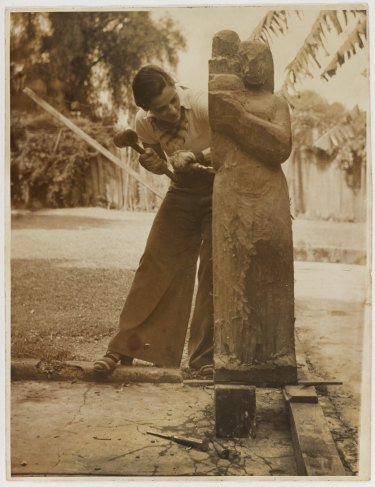 On the negative side there are few original ideas to be found in this comprehensive survey. Wandering through this exhibition I felt I could tick off the influences, one by one: chief among them being Maillol, Hepworth, Gabo, Pevsner and Moholy-Nagy. With most pieces Hinder drew obvious inspiration from one or more of these sources and proceeded to create her own variations. We might see her as one of those "messengers" art historian Bernard Smith saw as providing a vital link between Australia and the rest of the world. In the mid-20th century we badly needed artists who were alert to modernist innovation and ready to challenge the provincialism of our art institutions.
This is perhaps the best way of looking at Hinder: as a catalyst, an agent of change in a nation that likes to think of itself as progressive while harbouring the most doggedly conservative tastes and attitudes.
The AGNSW retrospective strives to recapture some of the excitement felt by those mid-century abstractionists who believed they were pushing back the boundaries of art. The first room contains a series of wire-frame mobiles suspended from the ceiling, including pieces in continuous motion. Spot lighting allows works such as Revolving construction (1957) to cast changing shadows on the wall in the manner of a constantly evolving drawing.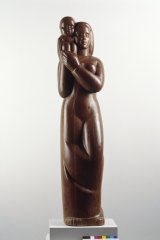 By this stage mobiles had been around for decades but one can still enjoy their simple kinetic dynamism. The second room takes us back to Hinder's earlier work in which she carved figures and abstract-organic shapes from wood. From the blocky forms of Mother and child (1939) to more stylised pieces such as Crane or Cat (both c. 1946), there's a seductive charm in the warmth and smoothness of the wood. These carvings represent the acceptable face of abstract art, retaining a recognisable link with nature while being of a scale that fits neatly into a modern domestic interior.
Curator, Denise Mimmocchi, tells us that in 1952 Hinder became dissatisfied with the "sentimental qualities" of wood. She rebelled against the gratifying but limited process of making aesthetically-pleasing works and became more ambitious. An obvious turning point arrived that year with the high-profile, international competition for a monument to The Unknown Political Prisoner, organised by the Institute of Contemporary Arts in London.
The competition, won controversially by British sculptor Reg Butler, attracted more than 3500 entries from 57 countries. Hinder's entry – an abstraction of two steel hands strung with wires – came third. She achieved this in direct competition with many of her artistic heroes such as Gabo and Pevsner. It was a huge boost to her confidence, although her success was barely noted in the Australian press.
A taste of international recognition confirmed Hinder's commitment to a more radically abstract form of sculpture that would to complement – or perhaps activate – public space and architecture. The final two rooms of the exhibition are filled with small maquettes for projects that were never executed on a larger scale. It's distressing to learn that the public sculptures she actually made were often destroyed when buildings were refurbished or demolished. Hinder may have been second only to Tom Bass in the quantity of public work lost through sheer neglect as developers viewed sculptures as no more than fixtures and fittings.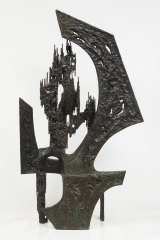 The variation in these maquettes is impressive as we see the artist experimenting with different materials, forms and textures. By general agreement Hinder's masterpiece is the Civic Park Fountain in Newcastle, a complex feat of public art that has stood the test of time. The work appears in the final room of the exhibition in the form of an "immersive" video by Andrew Yip.
Reflecting on this survey I felt I'd been looking at the work of a sincere and dedicated artist quick to respond to new artistic currents, but who did little that was genuinely original. In this, Margel Hinder was probably like 99 per cent of artists of all persuasions, as true inspiration is not an automatic function of hard work and integrity. There is a greater risk for those who align themselves with the avant-garde because each new 'cutting-edge' style dates more rapidly than conventional modes of painting and sculpture. What we get in this retrospective is a virtual anthology of the many faces of modernist sculpture throughout the 20th century.
Although Hinder was drawn to vitalism, Theosophy and left-wing politics, it can be difficult to relate these interests to her embrace of constructivism, with its formalist emphasis on questions of "space". The benefit of a full retrospective is that it provides a sympathetic frame that allows us to glimpse the feeling behind that impersonal procession of forms.
Margel Hinder: Modern in Motion, Art Gallery of NSW, until May 2.
John McDonald is an art critic and regular columnist with Good Weekend.