This was published 5 months ago
From the boardroom to the classroom
When Maura Manning told her partner she would quit her job with a multinational firm to become a teacher, he thought she was joking.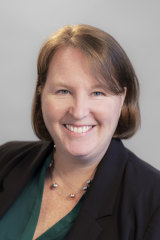 "I remember there was a stir across my floor that I would do such a crazy thing," she says. "I still shake my head and laugh when I think about it."
That was two decades ago when Manning left her job with PwC and started her new career as an English teacher at Abbotsleigh, a private girls' school in Wahroonga. She later worked at a number of independent schools, including Pymble Ladies' College and SCEGGS Darlinghurst before joining a not-for-profit organisation, Schools Plus, that works with schools and teachers in disadvantaged communities.
Earlier this year she started a new role leading the education strategy of 80 Catholic schools in Western Sydney and the Blue Mountains as Director Learning with the Catholic Education Diocese of Parramatta.
Before she moved from the boardroom to the classroom, Manning worked as a journalist for a newswire service in Boston, Massachusetts. After she moved to Sydney in 1996, she worked on IT trade publications writing about emerging technology.
"I didn't set out to become a journalist to be honest," she says. "What I liked most about my time working in various media outlets was learning about new things that I knew nothing about.
"Working at the newswire, I learned so much about business, the economy and stock markets. I adored the fast pace and the camaraderie of the newsroom.
"It made every day exciting and I loved the thrill of chasing down information and working to tight deadlines."
The research skills she developed in journalism helped prepare her for her job as a research analyst at PwC from 1999 to 2000.
"I felt like it was a good way to apply the learning I'd gained from my time on the financial newswire as well as the knowledge I'd built working in the IT trades as it was the exciting era of the rise of the dot coms," she said. "As a research analyst, I loved the opportunity to chase down the hardest-to-get information."
She moved into teaching in 2001 and completed her DipEd while working full-time.
"I had always liked the idea of teaching as I come from a teaching family," she says. "My mother and my grandfather were teachers.
"In my current role ... the financial background that I have gained from previous contexts comes in handy, but it is often the capacity to source, evaluate and synthesise large volumes of complex information into pithy grabs that I find really helpful."
Manning says she feels like she was "going through the motions of researching and writing" in her previous roles because she was not passionate about the subject matter.
That feeling changed when she worked in education.
"I love schools and teachers and young people," she says. "I wholeheartedly believe educators have it in their grasp to make the world a better place."
Anna Patty is a Senior Writer for The Sydney Morning Herald with a focus on higher education. She is a former Workplace Editor, Education Editor, State Political Reporter and Health Reporter.