Black Rhino buys big in South Australia
Pokie pub owner David Tomsic is expanding his gaming hotel empire into South Australia after buying the Newmarket Hotel in Port Adelaide and signing contracts on another five venues.
Mr Tomsic, who runs Black Rhino Hotel Group with his wife Deborah Mathieson-Tomsic, bought the freehold and pub's operations.
The venue on the corner of Commercial Road and Dale Street transacted for less than $4 million in a deal negotiated by Grant Clarke of McGees and Mathew George from CBRE Hotels.
At last count, the couple own about 20 pubs in Victoria, controlling more than 580 gaming licences.
The swathe of South Australian deals will add to the $1.18 billion in pub assets that have changed hands across the country so far this financial year as the industry revs up in the wake of COVID-19.
Mr George said most pubs changing hands in Adelaide were at an attractive price point, below $5 million, for freeholds compared to their Victorian and NSW counterparts.
Black Rhino's focus on South Australia is being spurred by a sharp increase in Melbourne pub prices brought on by low interest rates and strong competition from investors.
"Prices have well and truly surpassed previous levels, a trend fuelled by the low cost of debt," Mr George said. "In recent months we have seen some of the highest prices and sharpest yields being paid on record for both leasehold and freehold gaming assets."
Mr Tomsic, a former builder, said he bought pubs from long term owners and focused on renovating and upgrading venues.
"Our plans are to buy pubs and keep the existing staff on, inject some capital into them, upgrade the product on the floor and deliver high-quality venues back to the patrons and locals," he said.
Recent reform to gaming legislation in the state has added an extra level of incentive, he said.
The pub sector has yet to recover from the hammer blow inflicted by the pandemic, particularly in Melbourne where venues were closed for more than six months.
"Coronavirus has really knocked everything around. It hasn't got back to what we were doing prior," Mr Tomsic said.
The SA deals follow the listing of another landmark Sydney pub, the Terrey Hills Tavern, through brokerage firm HTL Property.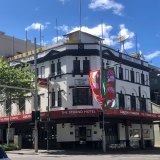 Data compiled by HTL shows NSW and Queensland have so far generated the lion's share of transactions this financial year.
Sydney has accounted for the bulk of the $1.18 billion in pub deals HTL has tracked this financial year, with about $830 million worth of hotels selling around the state.
The latest sale, conducted jointly by HTL and JLL hotel & hospitality group, was the Strand Hotel in William Street, Darlinghurst, Sydney for about $18 million. It was bought by JAGA, founded by Jon Adgemis and sold by the private Oscars Group.
It recently underwent a $3 millon refurbishment and will be operated by new inner-city boutique hotel group 'The People' foundered by Paul Schulte and Andrew Taylor.
By contrast, Queensland saw $217 million worth of deals while Victoria managed just $83 million.
Simon Johanson is a business journalist at The Age and The Sydney Morning Herald.
Carolyn Cummins is Commercial Property Editor for The Sydney Morning Herald.